Background Check Releases and Disclosures: What's the Difference?
Background Check Releases and Disclosures: What's the Difference?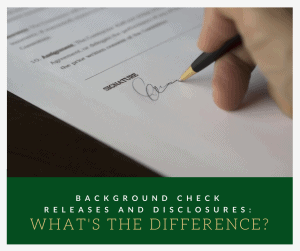 When it comes to pre- and post-employment background checks, a number of laws regulate what can be asked of an applicant, what permissions are needed, and how any information found may be reported. The terms "release" and "disclosure" are often used when discussing background investigations. But how do these terms differ when it comes to background check authorization?
Release
Before doing a background investigation, an employer or the background screening company must obtain a signed release from the applicant. The release form includes information such as applicant name, date of birth, social security number, address, educational history, employment history, and more. These facts, once provided, can be used to conduct various background investigative searches. Not all background check searches require the same input information. A thorough release form must contain the proper questions to ensure the investigation will be able to pull accurately from the proper databases.
The release typically acknowledges that the applicant received the disclosure, Fair Credit Reporting Act information, and state or local jurisdiction regulations. Further, the signature of the applicant authorizes the obtaining of "consumer reports" by the hiring company and background screener. The applicant's signature is also considered permission for the background screening company to pull applicant information from law enforcement agencies, state or federal institutions, schools, universities, employers, or information service bureau. For more information on the use of credit reports in background investigations, check out this white paper by Alliance Risk Group CEO Mario Pecoraro.
Disclosure
When an applicant completes the release form before a background check is conducted, they are often asked to review a disclosure. This statement informs the applicant of their rights. A disclosure might inform applicants that the background screener may obtain information about them from a consumer reporting agency, and that such information may contain driving history, criminal records, or other basic information pertinent to the applicant. The disclosure may go on to state that the report can therefore be used to make hiring decisions on the basis of the applicant's general characteristics.
Other statements of disclosure that may be included in pre-screening paperwork can be state-specific. For instance, in New York state, applicants must be notified that they have a right to be informed whether a consumer report was requested from a consumer reporting agency. Applicants also have the right to reach out to the reporting agency and to inspect and contest aspects of the report.
Employers and background screeners should be well-versed in the differences between releases and disclosures and be prepared to explain these nuances to job applicants. State and local laws should also be familiar. It's critical that your company understand what is permissible in your jurisdiction when it comes to background investigations.
For additional information about background investigations, contact Alliance Risk Group today! We are experts when it comes to releases, disclosures, background investigation legality, and anything else that might seem a bit confusing in your company's background check process. We would love to answer your questions and help you to set up background investigations on any pending applicants.
If you're interested in reading more blog posts on background investigations, we invite you to do so here.