4 Things to Consider when Hiring in New York State
4 Things to Consider when Hiring in New York State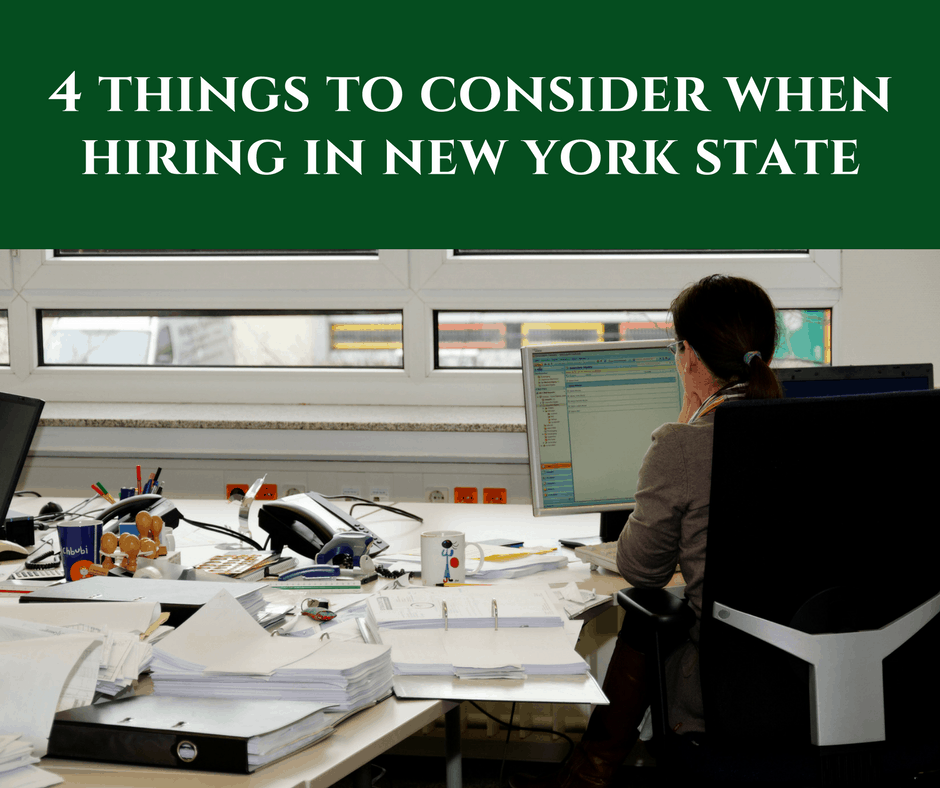 Are you an employer in New York State? If you are doing any hiring, you'll need to familiarize yourself with the state's laws for hiring practices. Specifics as to what you can and cannot ask potential employees are complicated, but it's critical that your company follow these rules. Here are four important aspects of New York State pre-employment law to consider when making new hires.
New York State General Business Law, Section 380.
This section of New York's General Business Law relates to the Fair Credit Reporting Act and the fair use of background investigations. Under Section 380 of the General Business Law, it is mandatory to inform an applicant of the request for a credit report and obtain their permission before proceeding. Additionally, applicants must be given the opportunity to dispute the results of a credit report, and, if found to be inaccurate, that aspect of the report must be expunged.
Violations of the Fair Credit Reporting Act, at the federal level, and statewide legislation like New York State General Business Law, Section 380, have led to a number of high-profile lawsuits in the recent past, as well as even more small-scale but potentially debilitating ones. Being familiar with the requirements of Section 380 is important before proceeding with background checks of any kind. For more information about New York's Fair Credit Reporting regulations, click here. To read about Fair Credit Reporting Act violations and how to avoid them, click here.
Additionally,  section 380-H of the General Business Law deals with consumer reports (such as background investigations). Any adverse findings brought to light during a background check can only be reported in that background check. For subsequent reports, the adverse findings must be re-verified unless the adverse information was received within the three-month period before the subsequent report was created.
Section 380-I deals with how background investigations may be used. If an applicant is denied a job due to adverse findings or other results of the investigation, the user of the report is required to inform the applicant, provide the contact information for the consumer reporting agency that furnished the report, and inform the applicant of their right to a copy of the report. Additionally, the user of the report is forbidden from distributing the background check results unless there is a legitimate business need to do so.
Section 380-J deals with prohibited information in background investigations. For instance, criminal charges cannot be reported if no conviction was made. Anything related to race, religion, ethnicity, or ancestry cannot be included in a background check. Bankruptcies, liens, and judgments can only be reported for a specific amount of time (14, 7, and 5 years, respectively). Information about an applicant's past alcohol or drug addiction or time spent in a mental health facility is also not eligible for reporting if it is older than seven years. Being familiar with section 380-J is very important when it comes to making hiring decisions within the confines of New York State laws.
Article 23A.
New York Correction Law Article 23A deals with the unfair discrimination against persons previously convicted of a crime or more than one crime. For evaluation of an applicant with a history of criminal offenses to be considered fair, they must be considered on an individual basis. Additionally, taking into account such things as the demands of the position and the severity of the criminal offense are encouraged under Article 23A. New York State encourages the employment of individuals with prior convictions. To read more about Article 23A, click here.
Ban the Box Laws.
"Ban the box" regulations refer to an effort by civil rights advocates to remove the checkbox from employment applications that asks job seekers to identify any criminal record they might have. Supporters of ban the box argue that the qualifications of an applicant should be considered ahead of their criminal history, so as not to discriminate against those with past legal trouble. Here are some specifics for New York State:
Albany (county)
Buffalo (city)
Dutchess (county)
Ithaca (city)
Kingston (city)
Newburgh (city)
New York City (city)
Rochester (city)
Syracuse (city)
Tompkins (county)
Ulster (county)
Woodstock (city)
Yonkers (city)
Prior Salary Information.
When it comes to making hiring decisions, there are certain things you might want to know, but be aware that you might not be allowed to ask. If you are in New York City, one of these prohibited questions is information about prior salary or earnings. As of October 31, 2017, New York City instituted a ban on any salary history questions during the hiring process. A similar ban has been proposed for the rest of New York State by Assemblywoman Sandy Galef and Senator David Carlucci as Bill A.6707/S.5233. To read more about this bill, click here.
When it comes to hiring in New York State, it is critical for employers to be aware of the rights of applicants. Still have questions? Alliance Risk Group is a certified background screening company and knows the ins and outs of hiring laws. Contact us today to learn how we can help your company with background investigations to ensure the best possible new hires. To read more articles on this topic, click here.