Credit Report Bill and Background Check Discrimination: How it Could Impact You
Credit Report Bill and Background Check Discrimination: How it Could Impact You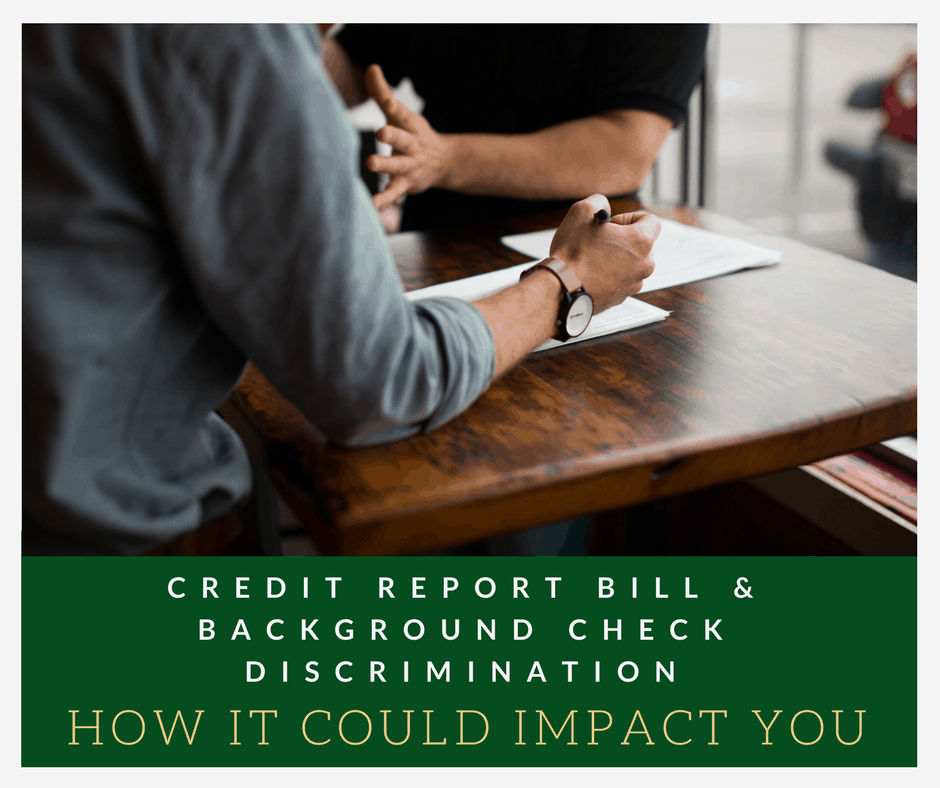 Credit reports have been used as one aspect of thorough pre-employment background investigations for some time. However, frequent legislative changes in the recent past make the use of credit reports in background checks increasingly complicated. Keeping up with these changes can be difficult.
In addition, employers are often scrutinized for their use of credit reports, which can be discriminatory in certain instances. At Alliance Risk Group, we have developed a noninvasive search that reveals the same outcome as a credit report but is not discriminatory. For more information on this search, please contact us!
According to a study by the Society for Human Resources Management, 47% of businesses use credit reporting in their background checks for at least some positions. If your company is among them, here are some key things to note.
Federal bills surrounding the use of credit reports have been introduced a few times but have not yet been passed. However, several states have very specific laws surrounding the use of credit reporting, and some also have pending bills. In addition, a federal bill, the Comprehensive Consumer Credit Reporting Reform Act of 2017, is currently pending. This bill would ban the use of credit reporting for many employment decisions, as well as establish a formal and improved dispute process for dealing with credit report errors and shorten the time that adverse findings can remain reportable. This bill, if signed into law, would take the option of credit report use in employment decisions largely off the table.
Other legal and regulatory changes have also impacted the way credit reports can be used. Beginning July 1, 2017, the three major credit reporting agencies began enforcing stricter rules on the public records they collect. Almost half of tax liens don't meet the new standards and thus are no longer included in credit reports. This could mean that information your company was previously privy to in background investigations will no longer be accessible.
Other changes have also been proposed in the recent past. As a result of the 2017 Equifax credit breach, Senator Elizabeth Warren has introduced a credit report bill called the FREE Act that would give consumers the ability to freeze their credit for free. Employed largely as a security measure, this freeze would restrict access to credit reports, including for use in background checks. Under the FREE Act, consumers are not liable for any charges that might at one time have been incurred for choosing to freeze their credit reports, and they have the ability to freeze their credit for any length of time they choose.
Additionally, according to Senator Warren, credit reports are "riddled with errors," and these mistakes are all the more likely in the future due to breaches like the one at Equifax. Mistakes on credit reports are difficult to get corrected, and this sort of history can thus be discriminatory.  
On top of all these changes, a number of states have either passed or are considering the passage of legislation regulating the use of credit reports in employment background checks. Pending legislation in another 17 states addresses the use of credit checks, as well, which are often detrimental to protected classes and lower-income workers. Some studies have indicated that there is little correlation between credit history and job performance and that the use of credit reporting can make it difficult for those with the greatest employment needs to overcome their credit history.
The laws and proposed laws vary by state but include limitations on the sorts of positions that are eligible for pre-employment background checks. These eligible positions include managerial positions and jobs involving access to sensitive information of various kinds. In many states, fines are instituted if a company violates the laws as outlined.
How might these changes affect your company? If you are currently conducting credit checks as part of your background investigation process, you might be no longer able to do so in certain instances, or your use of the credit report might be limited depending on the situation. Speaking with a professional background screening company like Alliance Risk Group can help you determine whether new legislation will impact your background investigations. Additionally, our background investigators can help you to create a custom background check package to maximize the information that is available to you legally about new hires. Our noninvasive, non-discriminatory background check options can help your company make critical hiring decisions.
Contact us today to schedule a no-cost consultation and discuss how your background check needs might change as a result of continually evolving legislation surrounding credit reporting. We look forward to helping your company mitigate risk! For more information on background checks, we invite you to read our other blog articles.