Overwatch Continuous Criminal Monitoring
Continuous Criminal Monitoring
Monitors and alerts employers of on-going employee arrest and criminal activity in real time
Fills in the gaps between pre-employment and periodic post-employment background investigations
Customizable subscription service that accesses the largest jail booking database in the country
Ongoing employee criminal status changes allows employers to take action sooner to protect your company from risk!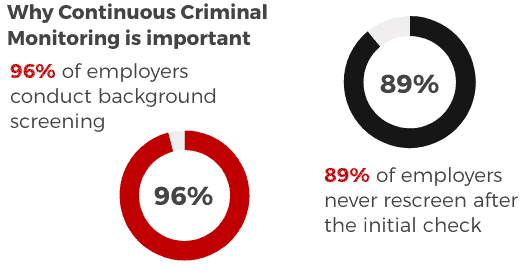 Have your existing employees been arrested, charged, or booked for a crime post hire? Mitigate risk, maintain a safe work environment, and avoid lawsuits with Overwatch Continuous Criminal Monitoring. Overwatch is a solution that can proactively alert you to criminal activity post hire and on an ongoing basis among your existing workforce including embezzlement, theft, assault and more. According to some studies, nearly 12% of an employers' workforce may be arrested, in some cases repeatedly, within the next five years. In many industries, that statistic is just too dangerous to overlook. In addition to pre-hire background screening, potential criminal activity should be monitored throughout the course of employment.
Why Overwatch Continuous Criminal Monitoring is important…
96% of employers conduct background screening
89% of employers never rescreen after the initial check
Overwatch alerts employers of ongoing employee arrest and criminal activity in real time. It fills in the gaps between pre-employment and periodic post-employment background investigations. It is a customizable subscription service that accesses the largest jail booking database in the country. Overwatch Continuous Criminal Monitoring includes ongoing employee criminal status changes that allows employers to act sooner to protect your company from risk.
Organizations can reduce workforce risk and provide a safer environment with this post-hire service set up to either monitor certain segments of the workforce or by the seriousness of the crime.
Overwatch Continuous Criminal Monitoring complements current screening and rescreening programs. Alliance Risk Group will provide FCRA compliant reports giving you the peace of mind that comes with knowing your workforce customers and reputation are safe.
Based on a simple monthly subscription, pricing depends on the number of individuals being monitored. Relevant key industries that benefit from Overwatch Continuous Criminal Monitoring include:
Healthcare

Medical Offices
Hospitals
MCO's

Home Services

Utilities
Construction and Repair
Cleaning Services

Transportation

Freight and Trucking
Ride Hailing and Taxis
Pilots

Senior Care

Home Health
Nursing Homes
Assisted Living

Volunteers

Churches
Scouting Groups
School Volunteers

Gig Economy
Child Care
Finance

Banks
Accounting Organizations

Retail
Delivery Persons
For more information about Overwatch Continuous Criminal Monitoring, email sales@allianceriskgroup.com, contact us at 800-579-2911, or view our previous announcements: 
Get 45 days of Overwatch Free!