Adverse Findings: What They Are and How They Impact Your Background Investigations
Adverse Findings: What They Are and How They Impact Your Background Investigations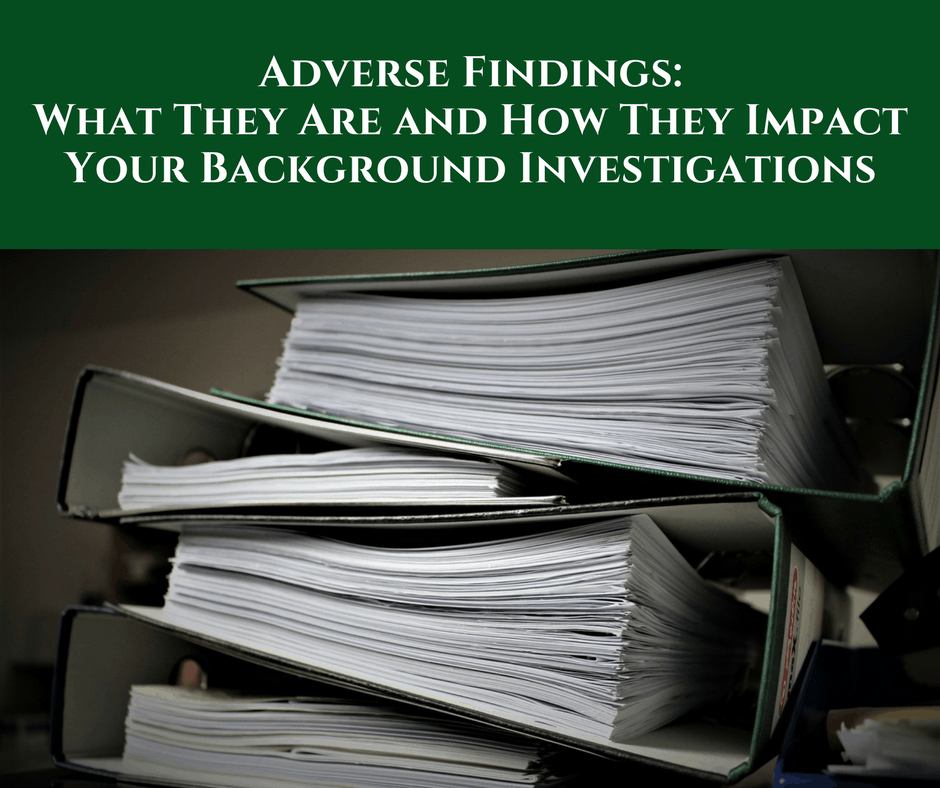 If your company currently conducts background checks, you may have heard the term "adverse findings" used in the past. But what are adverse findings, exactly?
An adverse finding in a background investigation can be any search result that contradicts information an applicant provided when they applied for a position with your company. For instance, if an applicant stated that they obtained a Master of Science degree, you would likely order an Education Verification check. If that check returns with the information that the applicant in fact did not graduate, that would be considered an adverse finding. Adverse findings can also be things like false information regarding professional experiences, criminal background, or licenses held.
What do adverse findings mean for your company? For starters, it's important to consider what sort of employees you want to bring on. If an applicant has knowingly provided incorrect information on a job application, it's possible that they did so in error. However, this also might indicate an inclination to read too quickly or fail to follow directions. In a far more concerning scenario, it's possible that the applicant purposely lied about their qualifications or their criminal history. Dishonest applicants likely make for dishonest employees. As such, any and all adverse findings should be taken very seriously.
If you conduct a background investigation and are unsure how to react to the adverse findings returned, turn to your background check provider for help. Alliance Risk Group is well-versed in dealing with adverse findings of all kinds. We can also help you to determine how best to proceed with the individual's application. Certain laws or regulations may prohibit particular actions by your company in response to certain findings. If you are considering an adverse action, check into the laws governing your jurisdiction before making any final decisions. Not sure what that entails? An adverse action is when a decision is made not to hire an applicant based upon the adverse results of a background check.
In all cases, the information returned in a background investigation is subject to the rules of the Fair Credit Reporting Act (FCRA). This means that your company must alert applicants to the availability of their background investigation results and also limits how this information may be used or shared. In addition, when it comes to adverse actions, companies are required to follow certain procedures, including issuing a notice of pre-adverse action and a notice of final adverse action. To read more about FCRA guidelines and how to avoid legal action being taken against your company as a result of FCRA violations, click here.
The 15 largest background investigation companies in the United States don't track their adverse findings within their client access portals. As a business ordering background checks, how are you able to tell if your background screening provider is conducting thorough checks that delve deep into applicants' histories if that provider doesn't share measures of their adverse findings with you? At Alliance Risk Group, we pride ourselves on thorough, comprehensive background checks that delve deep and identify any potential concerns in an applicant's history.
A thorough background investigation can mean a safer, more efficient workplace. It can also mean a huge cost savings if it helps your company to avoid bad hires. The time and money invested in the hiring process is significant. Make it count by doing your due diligence and ordering a comprehensive background screening on anyone you are thinking of hiring.
For more information about the kinds of background investigations Alliance Risk Group offers its customers, please contact us today. We would love to chat, and we are happy to offer you a no-cost webinar to see whether our services might suit your needs.
To be read more about background investigations, we invite you to explore our other blog posts and whitepapers here.