Summary of Rights Update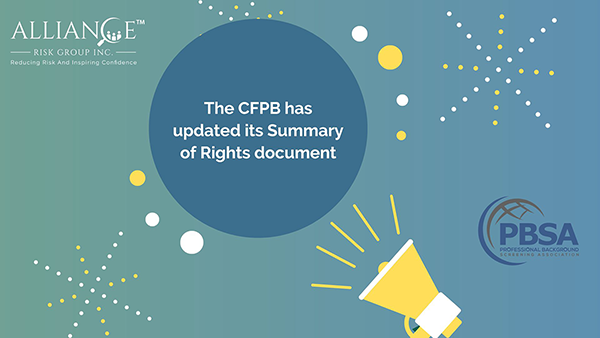 On March 17, 2023, the Consumer Financial Protection Bureau (CFPB) published an updated version of the Summary of Your Rights available in both English and Spanish versions. The Rule in which the new Summary of Your Rights Under the Fair Credit Reporting Act was published does not become effective until April 19, 2023, and the use of the new version does not become mandatory until March 20, 2024.
According to their website, CFPB "is issuing this final rule to make non-substantive corrections and updates to Bureau and other Federal agency contact information found at certain locations in Regulations…including Federal agency contact information that must be provided with Equal Credit Opportunity Act adverse action notices and the Fair Credit Reporting Act Summary of Consumer Rights (FCRA)." This final rule also revises a "chapter heading" and provides a Bureau website address where the public may access certain APR tables.
While these changes are described as "non-substantive" it is imperative that employment background screeners, employers, and applicants use the most current version. Under the FCRA, employers must provide applicants with a disclosure and obtain their written consent before conducting a background check. This disclosure must be a standalone document that is separate from any other application materials and must include a summary of the applicant's rights. Another important rule is that the summary is current and up to date.
Some of the changes appearing on the new form include an address change for the Office of the Comptroller of the Currency Customer Assistance Group, and updated names for several organizations. For example, the FDIC Consumer Response Center is now referred to as the Division of Depositor and Consumer Protection, National Center for Consumer and Depositor Assistance, Federal Deposit Insurance Corporation.
If an employer provides an outdated Summary of Rights disclosure, the applicant may have grounds to take legal action against the employer. They may argue that the outdated disclosure prevented them from fully understanding their rights under the FCRA, and may seek damages for any harm caused by the violation. In such cases, the employer may be required to pay damages which can vary widely depending on the specific details of the case and the jurisdiction in which it is heard.
One well-known case happened ten years ago but is still very relevant today. In this suit, Kmart Corporation agreed to a $3 million settlement for violating FCRA when using background checks to make employment decisions. The plaintiff alleged he received an outdated statement of consumer rights under the FCRA that did not include important revisions and did not have accurate contact information for the FTC and Federal Reserve. The proposed settlement class of nearly 65,000 people included anyone who had a background check conducted for Kmart employment purposes and received the accompanying statement of consumer rights.
Employers should provide current and accurate disclosers to applicants in order to comply with the FCRA and avoid potential legal liability. A best practice is to regularly review and update disclosure forms to ensure compliance with any changes in the law.
For more information, visit the Federal Registrar Notice of the Update, CFBP notice and web page or view CFPB Model Forms, including updated Summary of Rights.
Contact Alliance Risk Group for any HR Compliance related issues: https://allianceriskgroup.com/contact/