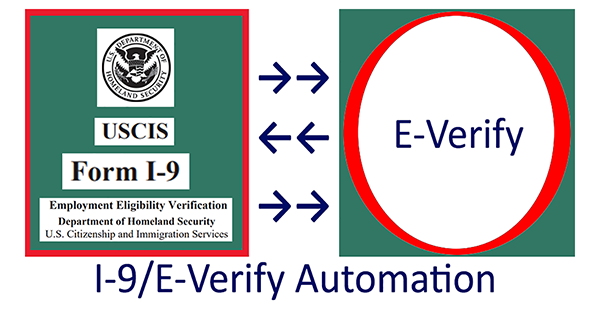 Simplify hiring matters with I-9/E-Verify Automation. Busy HR departments and companies with remote workforces (3 or more employees) will appreciate the ease of this automated solution to validate eligibility to work in the U.S. Traditionally, new hires complete Form I-9 so that HR Departments can verify the identity and employment authorization of individuals hired for employment in the United States. When the form is returned, employers must examine the employment eligibility and identity documents to determine accurateness and authenticity
I-9/E-Verify Automation eliminates wait times and hassles. 
With I-9/E-Verify Automation, new hires complete an electronic I-9 Form which automatically integrates with E-Verify, the step that confirms the candidate's documentation. E-Verify is a web-based system that confirms eligibility of employees to work in the U.S. E-Verify electronically matches information provided by employees on the Form I-9, Employment Eligibility Verification, against records available to the Social Security Administration (SSA) and the Department of Homeland Security (DHS.) I-9/E-Verify Automation saves time by not waiting for the information from the employee and/or courts being stalled due to COVID-related delays.
I-9/E-Verify Automation ensures compliance with federal, state and local government entities. This service helps identify and resolve errors, omissions, and discrepancies on employee's I-9 Forms.
Customization is available with E-Verify verification locations. The entire process is fast, seamless, and compliant; easing the burden related to completion, signature, storage and tracking of I-9 forms and E-Verify completion.
HR compliance can get complicated. Simplify hiring matters with I-9/E-Verify Automation and ease your workload. To get signed up with I-9/E-Verify Automation, or for more information, email [email protected]. To learn more about the Alliance Risk Group Management Team, click here: https://allianceriskgroup.com/about-2/team/.