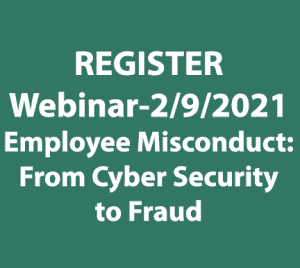 Join CEO Mario Pecoraro and Harbor Networks for an engaging FREE webinar panel discussion on the 2021 state of fraud and cybersecurity in our workplaces, especially during COVID.
EMPLOYEE MISCONDUCT FROM CYBER SECURITY TO FRAUD
February 9, 2021
11 AM EST
Expert panelists will discuss challenges and provide solutions on current trends in employee misconduct, including possible outcomes, financial losses and Third Party Liability.
The interactive panel will take place on Tuesday, February 9th at 11 AM.
The webinar discussion will review
Best practice measures when misconduct occurs
Keys to a successful forensic investigation and prosecution
Preventative measures and effective internal controls to reduce exposure to these types of misconduct.
Meet the Panelists:
Mario Pecoraro is President/CEO of Alliance Risk Group, a company that provides risk mitigation through pre- and post- employment background screenings, investigative surveillance services, claims adjusting and service of process.  Founded in 2005 under the name of Alliance Worldwide Investigative Group, Mario consolidated his companies in 2020 under the Alliance Risk Group name. A member of the Professional Background Screeners Association, PBSA, Alliance employees hold Fair Credit Reporting Act (FCRA) Advanced Certification designating them in an elite category of HR compliance specialists. Pecoraro conducts accredited webinars and is currently a Society for Human Resource Management (SHRM) Recertification Provider. He also presents at conferences across the country. Mario grew up working in his parents' investigation company and his passion led him to publish a book called, "The Claim Game: Twenty Best Practices when Managing and Investigating Workers' Comp Claims." In 2019, he published his second book, "Avoiding Costly Hiring Mistakes." He was honored by his peers as an outstanding business person" for conducting risk management and quality due-diligence based investigative services with integrity and his company was twice named a "Best Places to Work" by the Albany Business Review. A sought-after thought leader and national blogger, Mario has appeared on Fox News "Your World with Neil Cavuto" and ABC's 20/20 as the "gold standard" for those who want to screen out fakes.
John D. Flory III is a recognized Cybersecurity expert with over 28 years in the security field. His hands on experience dealing with real time cybersecurity attacks and remediation offers a valuable resource to organizations' cyber preparation. John's leading edge approach has allowed him to help create human firewalls as one of the key pillars of defense. He has been featured as a keynote and spoken at numerous conferences including the Symantec Global Conference, New York State Bar Association, Tech Collective, New York Bankers Association, The Human Resources Association, The NY Tech Summit, and The Department of Homeland Security Forum. John currently serves as the Chief Information Security Officer at Harbor Networks. John is a proven business leader with an unprecedented history of building effective and overachieving teams.
Chris Meyer is a partner with Whiteman, Osterman & Hanna LLP. Chris leads the Firm's Privacy, Cybersecurity and Information Management Practice. Chris provides advice on international, federal, and state laws, as well as industry self-regulatory guidelines concerning privacy, cybersecurity, data protection and intellectual property, including but not limited to: the Health Insurance Portability and Accountability Act (HIPAA), the Family Educational Rights and Privacy Act (FERPA), Fair Credit Reporting Act (FERPA), the European General Data Protection Regulation (GDPR), the Canadian Personal Information Protection and Electronic Documents Act (PIPEDA) and the California Consumer Privacy Act (CCPA).
Paul is a Partner with FAZ (Ferraro, Amodio & Zarecki CPAs) with over 20 years in public accounting. Paul has worked in numerous areas of public accounting and thus developed a wide range of knowledge and experience. Since 2005, Paul has worked exclusively in forensic accounting. His knowledge and extensive experience in forensic examinations includes the ability to identify the issues, identify the sources and measures to obtain the evidence needed to ultimately determine the nature of the allegations.
Meet the Moderator:
Charles is a Partner with FAZ and specializes in the areas of insurance loss accounting, economic damage analysis, litigation support and financial investigations. Charles has extensive experience analyzing personal injury lost earnings claims and claims for lost business income as a result of business interruption. Charles also provides forensic accounting services of claims for financial motive and investigation of employee thefts. In addition, Charles has provided lost earnings and business interruption training to several insurance companies, law firms and trade associations.