NYSDA Background Investigation Packages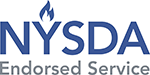 You have risk. 
We have solutions.
Let our team support you.
ALLIANCE RISK GROUP IS YOUR COMPLIANCE EXPERT PARTNER!
NYSDA Background Investigation Packages
Dental practitioners in New York State face increased government oversight and regulatory action. Clinical staff must have proper licenses, adhere to age, experience, and education requirements, and "be of good moral character." Non-clinical staff, including financial managers, have access to sensitive patient financial and medical information. Many healthcare facilities now include compliance officers to navigate rules and regulations, eliminate fraud, and safeguard patient safety.
Let Alliance Risk Group be your Compliance Expert Partner! Our company is headquartered in New York State where we work with HR Departments to ensure healthcare and dental practices thoroughly screen all employees and contractors.
We check the Office of Inspector General (OIG) list to ensure candidates have not been excluded from receiving federal funds such as Medicare and Medicaid. Anyone who hires someone who appears on the OIG List of Excluded Individuals/Entities (LEIE) may be subject to civil monetary penalties. The Department of Health and Human Services recommends routinely checking the list to ensure that new hires and current employees are not on it. That is why Alliance offers our proprietary Healthcare Compliance Search as part of our Advanced Search Package. Healthcare Compliance takes the OIG search a step further by including a search of all debarment lists required for healthcare laws and sanctions.
Choose from our Discounted Background Investigation Packages
Designed Specifically for NYSDA Members

Why Choose Alliance?
We inspire confidence by providing *Actionable Intelligence, *Detailed, Timely Communication, and *On-Time Performance!