New York's Healthcare System: A Lack of Due Diligence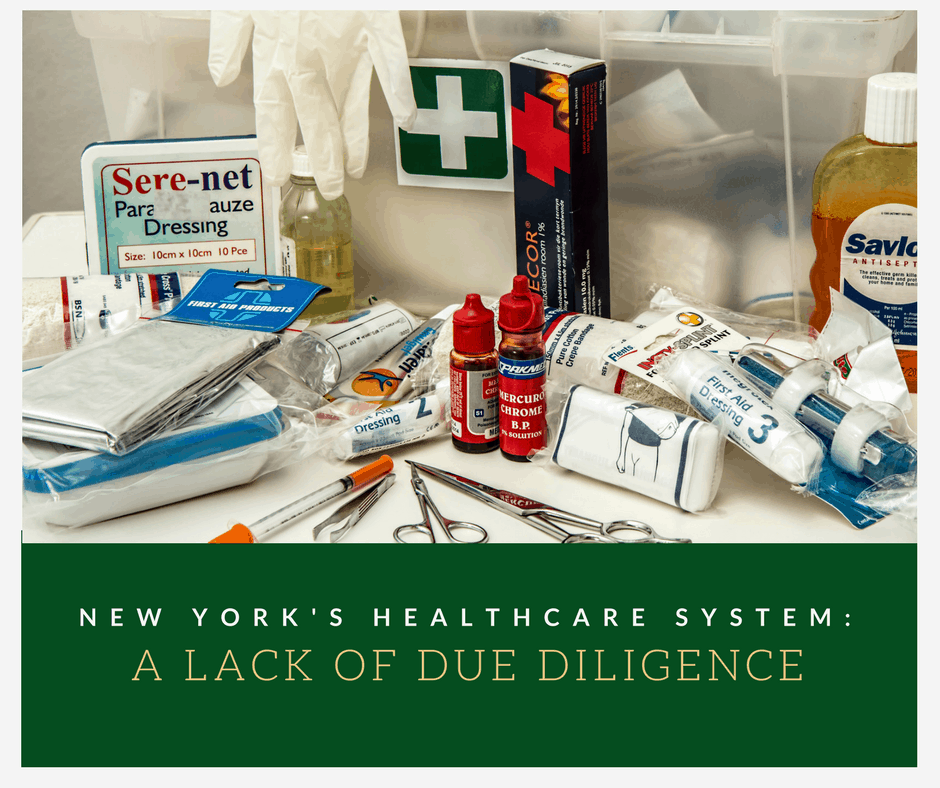 In New York State, the Department of Education oversees the licensure and practice of 54 professions, including nursing. On average, the SED receives 6,000 complaints annually against all licensed professionals. Perhaps due in part to this incredible volume of complaints, it can take a great deal of time to complete investigations.
According to an audit released by NYS Comptroller Thomas DiNapoli in September 2017, cases have been open for as long as 866 days. In addition, SED was failing in many instances to follow up on lower-level complaints–as many as 8,202. Of these, 215 were high priority cases when first filed. Though the State Department of Education has clear policies in place regarding vetting and investigating nurses and other healthcare professionals, they are in large part failing to uphold them.
Here are a few basic facts about what the Department of Education does and doesn't do in terms of vetting healthcare professionals. Note that applicants must meet certain standards under state law, including education, examination, and moral character requirements.
The state independently verifies the education, credentials, examination results and out-of-state licenses for nurses, but they are not able to confirm a nurse meets the moral character standard!
New York does not require fingerprinting or background checks as a condition for obtaining a license, but instead relies solely on an applicant's disclosure of any past misconduct.
Post-hire, the Department of Education does not actively monitor nurses any longer, instead relying on self-disclosure every three years.
A number of high-profile cases involving criminal activities by nurses underscore the importance of improved background investigations and follow-up by the State of New York. The safety of patients and reputation of healthcare facilities is at stake.
While New York State works to improve its background check practices, your healthcare facility should audit its own hiring practices. A thorough background check should be completed on each and every hire. In addition, frequent check-ups on these employees can go a long way toward preventing problems down the line.
What sorts of checks should your background investigation include? Ask your background service provider about performing a Healthcare Compliance Search and a check of employment history, as this helps to ensure that potential hires have a clean work history, have been compliant with industry regulations, and that they've done the work they say they have. Without this assurance, your facility is open to all sorts of litigation if the worst happens and an employee isn't honest about their past.
As your facility knows, HIPAA laws are strict when it comes to how medical information should be treated. From staff members working in billing to surgeons, your facility's employees should undergo pre-employment checks of professional references, criminal records, and more to get a better sense of their ethical qualities. There are no guarantees when it comes to security, but knowing that your new hires have been honest in the past can help with hiring decisions. Medical practice background checks are a key part of this process.
Your medical facility is a secure site, with expensive equipment, medications of all kinds, and sensitive information. It's important to verify that new hires have no criminal background, history of theft, or other problematic behaviors before onboarding them. Even things like theft of company time may come up in professional reference checks, so be sure that your background investigation includes them.
Last but certainly not least, your patients deserve the best. Expert knowledge, great bedside manner, and continuity of care are critical aspects of your company's reputation. A thorough pre-employment screening can help to verify that new team members will meet company expectations and help to further your mission to provide unparalleled care.
A 2011 report by the United States Department of Health and Human Services Office of the Inspector General indicates that 92% of nursing facilities employed at least one individual with a criminal conviction. That statistic is staggering, and it is something that a thorough background screening process can help to prevent.
Alliance Risk Group. is well-versed in full-scale background screenings for the healthcare industries. If you have questions about what your medical facility should be doing when it comes to background check best practices, we would love to schedule a no-cost webinar with you to evaluate your needs. Contact us today!
To read more about background checks and how they can help mitigate risk in your industry, click here.