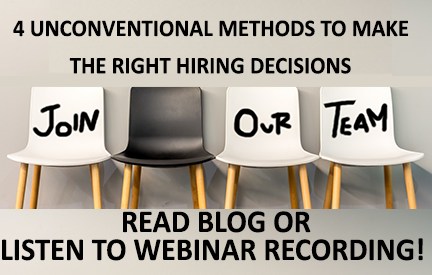 Read on to learn how to make the right hiring decisions!
Interested in hearing CEO Mario Pecoraro discuss how to make right hiring decisions? Access free webinar based on this article here: Free Webinar Recording
Four Unconventional Methods to Make the Right Hiring Decisions
The business of hiring is dramatically changing as we venture into the year, 2022. The COVID pandemic has created remote workforces in numbers that did not exist before, negatively impacted turnaround times related to background investigations due to court shutdowns and court slowdowns and caused a mass exodus or "Great Resignation" from employment rolls. More stringent requirements were enacted on state and federal levels related to "fair chance" legislation which forbids asking applicants about criminal convictions usually until after a tentative hiring offer is made; criminal records are being expunged and bail reform has changed the reliability of some criminal conviction records.
While these legal policies were created with fairness and justice in hiring in mind, employers still need to ensure who they hire will align with their company's core values and not pose a threat to co-workers or clients. The cost of a bad hire or a Negligent Hiring lawsuit is too great a risk to take chances.
Here are four unconventional ways to conduct thorough background investigations and make right hiring decisions in spite of court closures, business disruptions and jail reform policies.
Gaps in Employment
It is important to examine the candidate's resume to get a better understanding of their employment history. Many ordinary life experiences can cause employment gaps such as raising children, going back to school, or healthcare needs. However, it is important to ask the candidate (and verify) to be sure the gaps do not cover up something more serious. Having a process in place to ensure that gaps in employment are not intentionally omitted is critical to your hiring process and to the integrity of the applicant. I know of an employer who reviewed an applicant with a work history that included owning his own business. While there was a gap on the resume, no red flags stood out until the applicant volunteered that they had spent time in prison. This may or may not be a deal breaker, but it is best for an employer to be aware of who they are bringing on board and a thorough knowledge of their history.
References, Employment Verifications, or Both?
References and employment verifications are often intertwined but it is important to understand the distinctions between the two and how to best utilize each tool. While both are often used in the hiring process, references are generally individuals that can attest to specific characteristics and behaviors of former coworkers (applicants).  Most candidates will provide names of individuals who will attest to their character and answer specific questions during the time that they worked together. Conversely, employment verifications are more structured, providing past employment information including position, dates of employment, and reason for leaving. Employment verifications are conducted under very strict guidelines with human resource departments or third-party verification sites.  An employment verification is useful to confirm the information provided by an applicant whereas the usefulness of a reference verification is questionable from a risk mitigation perspective. While both may be helpful, ask yourself how many times a reference rated an applicant below the satisfactory level in response to questions regarding the candidate's characteristics and attributes? From my experience, it is rare which is why we must carefully examine all aspects of both references and employment verifications to ensure that we are gaining information that is accurate or effective in truly learning about a candidate. When was the last time you wrote a reference for someone and had something negative to say about them?
Eligibility to Work in the U.S.
Under the Immigration Reform and Control Act, it is illegal for an employer to knowingly hire undocumented immigrants. While a Driver's License was a first step in verifying identity in the past, many states have recently enacted laws allowing undocumented workers to receive a valid Driver's License. The best method to confirm status is to have your potential hires fill out a Form I-9 to verify that they are eligible to work in the U.S. It is recommended that employers then use E-Verify to confirm that status is accurate. E-Verify is a web-based system that electronically matches information provided by the employees on the Form I-9 against records available to the Social Security Administration (SSA) and the Department of Homeland Security (DHS.)  To make this step easier and more efficient, especially with remote workforces, employers can opt to have their applicants complete an electronic Form I-9 which integrates automatically with the E-Verify process for easier creation, storage, and management of records.
Social Media Investigations
One way to have peace of mind that the applicant you are about to hire aligns with your company's core values and will not pose a threat to co-workers is by conducting social media hiring reports.  FCRA-compliant social media hiring reports flag and provide screenshots of acts of violence, criminal behavior, intolerance against protected classes, sexually explicit material, and illicit drug use. Freedom of speech and employee rights are certainly valuable points to consider, but social media hiring reports can identify potentially serious threats. In addition, the Equal Employment Opportunity Commission (EEOC) forbids discrimination in the workplace based on a person's race, color, religion, age, disability, or genetic information. Knowing if candidates exhibit signs of racism or intolerance can protect your workers from discrimination and save your company from a possible EEOC lawsuit.
Having this knowledge before making a hiring decision can also protect employers from a Negligent Hire lawsuit. According to the definition on uslegal.com, "Negligent hiring is a claim made by an injured party against an employer based on the theory that the employer knew or should have known (by reasonable investigation) about the employee's background, which, if known, indicates a dangerous or untrustworthy character."
A current negligent hiring case example was in the news recently. In 2017, a first-year medical resident at Bronx Lebanon Hospital was shot in the abdomen by a doctor who no longer worked there. In March of 2018, he sued the hospital in U.S. District Court in Manhattan for negligent hiring, training, and supervision among other things. He alleges lack of security despite red flags of problems at the hospital including a prior violent incident in 2011. His lawsuit also claims the hospital did not conduct proper background checks on the shooter which would have revealed issues with "medical credentials, past employment, and anti-social and criminal history." His lawsuit also states that despite accusations of sexual harassment and sexual misconduct by a female employee, the shooter was allowed to continue working there until his termination, the hospital didn't report the accusations to law enforcement and the hospital never retrieved the shooter's hospital ID card and property. This allowed the shooter access to the premises and on June 30, 2017, he walked into the hospital wearing a white doctors coat, hospital ID and carrying an AR-15 rifle. He set fire to the hospital's 16th floor nursing station, wounded four other staff members and a patient and killed a doctor, before shooting himself.
Attorneys for the hospital asked the District Judge to toss the complainant's case but that was rejected. In 2021, the NYS Workers Compensation Board determined the complainant's injuries arose from employment which would only allow him to collect workers' comp benefits and prohibit him from suing the hospital for any wrongdoing. In February of 2022, the Appellate Division of state Supreme Court's Third Department in Albany, New York, voted in a 4-0 decision that the federal negligence lawsuit can proceed against the medical facility.
In summary, it is an employer's responsibility to prevent negligent hires and resulting lawsuits. Traditional background investigations should always be conducted first but adding social media hiring reports can fill in potential missing gaps that may flag dangerous or criminal behavior.
Another Case for Conducting Unconventional Background Investigations
A recent article published in The Atlanta Journal-Constitution reported that Georgia's database of criminal histories is filled with information gaps "that make records unreliable for state's judges, employers and probation officers." In Fulton County, 40% of the criminal records had no final outcomes, which is equal to 1.5 million charges including 19,000 charges for serious violent felonies. The article goes on to say, "The vast majority of the charges without dispositions entered have dragged on for so long without updates that potential employers and licensing agencies cannot even see the serious charges when they check a job candidate's record."
The unfortunate truth is that Georgia is not the only state where gaps exist and there is a growing trend to redact birth dates from court records which can cause even more problems in verifying identity and criminal convictions. In addition, COVID-related court closures have caused more violent criminals to be on the street. An example is the recent murder of 24-year-old UCLA graduate student, Brianna Kupfer, who was working alone in an LA furniture store when 31-year-old Shawn Laval Smith walked in and, in a random act of violence, stabbed Kupfer to death. It turned out that Laval had a decade-long criminal history spanning two coasts and had been out on bond for over two years because of COVID backlog. Conducting the additional investigations mentioned can go a long way to make sure you remain in compliance with HR laws and that your hire poses no threats to your company, clients, or workers.
Conclusion
The ancient Greek philosopher, Heraclitus, once said, "It is impossible to step in the same river twice."  That is because the water is always flowing and ever changing. The same can be said of hiring and the evolving nature of employment. In a recent episode of 60 minutes, it was reported that well over 20 million people quit their jobs in the second half of 2021. In the segment, LinkedIn Chief Economist, Karin Kimbrough, said that pre-pandemic, 1 in 67 jobs were remote. Today, 1 in 7 jobs is remote. Companies that will thrive are the ones that can provide the benefits, pay and flexibility applicants are looking for in this employee-driven market. In addition, companies that can dodge roadblocks with creativity, resourcefulness, and unconventional background investigations, will be able to make right hiring decisions and onboard candidates that will be a perfect match for their company culture.
To contact Alliance Risk Group regarding how to make right hiring decisions or to learn more about thorough background screening, email sales@allianceriskgroup.com.
Learn more about the Alliance Team here: https://allianceriskgroup.com/about-2/team/
To read the article, "Key information missing from Georgia's criminal records database" published by the Atlanta Journal Constitution, referenced in this blog, click here: https://www.ajc.com/news/investigations/key-information-missing-from-georgias-criminal-records-database/7QTJZX7C2JCJPGEJJ7FAOD52HM/