Our low-cost Work Number alternative is now available!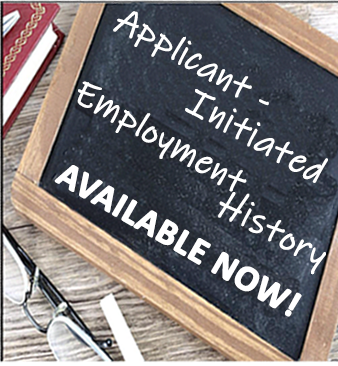 Alliance Risk Group is pleased to announce that Applicant-Initiated Employment History is available now!  This service is a low-cost alternative to Work Number employment verification services. The Work Number service has been used by pre-employment screeners to verify applicants' employment status as a way to reduce the workload of HR professionals. However, this traditional approach can be expensive because of skyrocketing verification costs and unpredictable price increases by third-party vendors. Other problems include slow turnaround times and increased risk of fraud. But now there is a solution!
Applicant-Initiated Employment History will eliminate these issues by providing…
Cost Savings (Significantly less than traditional employment verification approaches)
Instant Verifications (Accurate verifications directly from payroll providers)
Fraud Elimination (Provides access to three years of W2s containing detailed data)
50+ Supported Payroll Providers
12,800+ Direct Employer Integrations
9,200+ Unique Payroll Integrations
Covers 85% of the U.S. Workforce
This applicant-initiated service can instantly and accurately provide employment history by linking with the candidate's previous payroll providers.*  Applicants then approve the verification. ensuring your candidate's employment history status is accurate.
*With 85% of the U.S. workforce covered, this new resource is a great alternative to the routine verification process. However, it does not come without potential challenges, including whether the applicant initiates the process or if the applicant's previous employers/payroll providers participate. We will do our best to communicate all options throughout the process in order to provide you with the most accurate solution in the quickest timeframe possible
To learn more, email [email protected]