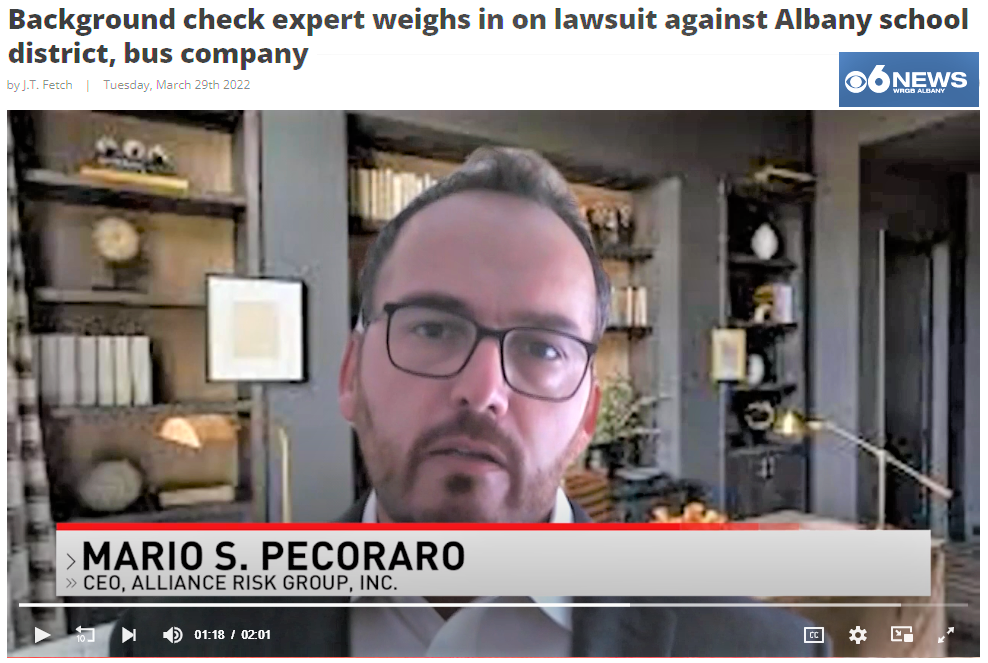 Background Check Expert Weighs in on Lawsuit
CEO Mario Pecoraro appeared on CBS 6 affiliate recently to weigh in on what more can be done to vet candidates who interact with children or are placed in positions of trust.
A civil suit was filed against a school and bus company after the bus monitor pled guilty to sex abuse. The suit alleges multiple acts over time on the bus against a 7-year-old boy with special needs.
An excerpt as reported online by WRGB-CBS 6:
"Outside of the traditional background screening, there's new technology out there that allows you to look for other red flags, so I believe employers need to be more diligent in their process – tere was footage over multiple days within the bus, so outside of the pre-employment side, there's also what level of due-=diligence is being done to really look at this footage," said Pecoraro.
Pecoraro says he's found companies need to focus more on the post-employment process. He says there can not only be negligent hiring, but also negligent retention after the fact.
Facts of the case
Civil suit was filed in New York State Supreme Court by parents of victim against a bus company called First Student and the Albany City School District alleging negligence in hiring a bus monitor.
The complaint was filed after the bus monitor pled guilty to sex abuse.
In July of 2021, the 31 year-old bus monitor was charged with sexually assaulting a 7-year-old boy with special needs
The mother of the child had complained to the school that her son seemed troubled when it was time to go to school and board the bus.
She suspected there was a problem but no investigation was immediately conducted.
Her lawyers claim red flags should have been noted when the bus monitor was not keeping a six-foot distance per COVID protocol.
The bus driver failed to report any unusual activity concerning the bus monitor and the camera footage on the bus was not reviewed following the mother's initial complaints.
To view the full video that aired on WRGB CBS 6 Albany, click here:
Background check expert weighs in on lawsuit against Albany school district, bus company | WRGB (cbs6albany.com)
https://cbs6albany.com/news/local/background-check-expert-weighs-in-on-lawsuit-against-albany-school-district-bus-company