Avoiding Class Action Lawsuits Due to FCRA Violations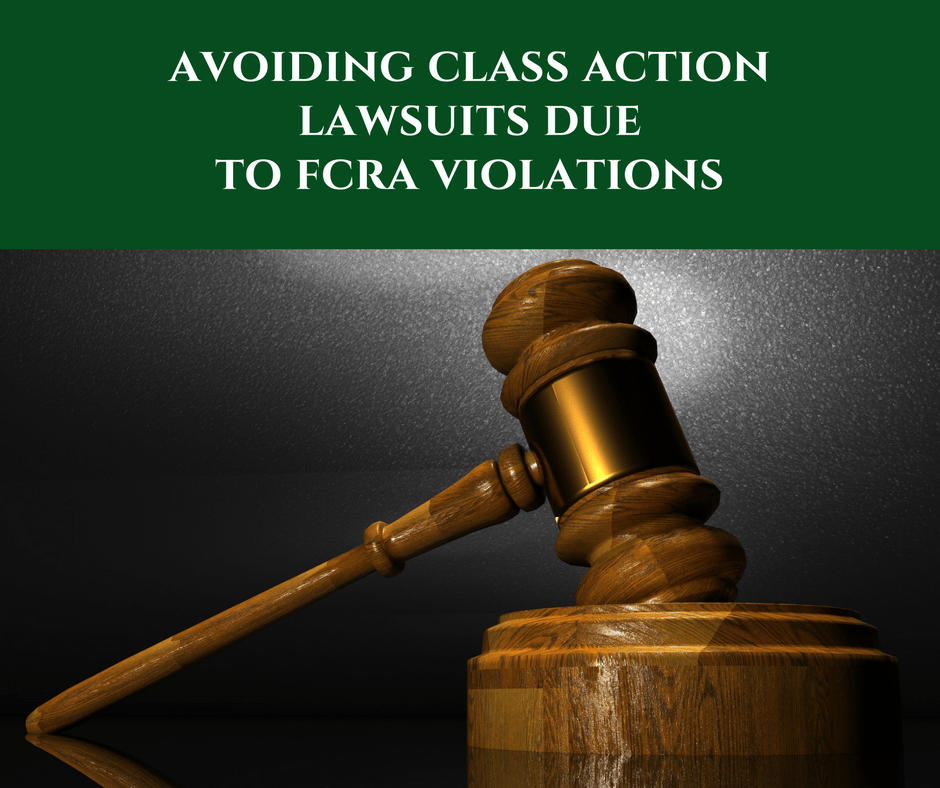 The FCRA, or Fair Credit Reporting Act, is a United States federal law promoting the accuracy, fairness, and privacy of consumer information in credit reporting. The law protects the rights of consumers to know what information is in their file, whether information in their credit report has been used against them, and to dispute anything contained within the report that they know to be false. A reasonable expectation of privacy is also promised to consumers under the FCRA. You can read more about the FCRA's consumer rights here.
Credit checks are a common part of a pre-employment background investigation. Since these checks fall under the jurisdiction of the FCRA, it's important to verify that the company performing your background checks is adhering to the legislation. Failure to properly comply with FCRA regulations can put your company at risk for significant legal action and financial responsibility.
Unfortunately, violations of the FCRA can take a toll on companies. A number of recent class-action lawsuits have brought to light the significance of upholding the FCRA. If employers are found in "willful violation" of the legislation, potential employees are eligible to collect actual or statutory damages in an FCRA suit, the latter of which can range from $100 to $1,000. Costs to companies can be staggering, however, particularly when multiple parties are involved. Settlements in major cases have ranged from $6.8 million against Publix supermarkets, $2.5 million by Domino's Pizza, and $4 million by Dollar General.
In some instances, however, companies have been able to effectively fight back against class-action lawsuits arising out of FCRA violation claims. For instance, in Lewis v. Southwest Airlines, the plaintiff alleged that Southwest Airlines had impermissibly presented the statutory disclosure along with other supposedly "extraneous" information. The court relied on the U.S. Supreme Court's opinion in Safeco Insurance Company of America v. Burr and determined that Southwest's disclosure obligation was too uncertain to support a willful violation.
Similarly, in Culberson v. Walt Disney, the plaintiff alleged that Disney's classification of background checks as "no hire" based on certain criminal convictions was an adverse action and a willful violation of the FCRA. The defendant argued that this was not an adverse action itself, but rather an internal decision taken in case of an adverse action in the future. The decision from Lewis v. Southwest Airlines supported Disney's argument, and the court found that Disney did not act "objectively unreasonable" even if its FCRA practices were similar to those in recent cases in which courts found non-compliance.
Need help with your FCRA questions? Alliance Risk Group. is a full-service investigative firm well-versed in the Fair Credit Reporting Act. We conduct best practice background checks in a variety of industries, regardless of your company's size or geographic location. Alliance believes in being proactive, not reactive! Contact us with questions about the FCRA or to set up an employment background screening today!