4 Reasons Staffing Companies Can't Afford to Skip Background Investigations
4 Reasons Staffing Companies Can't Afford to Skip Background Investigations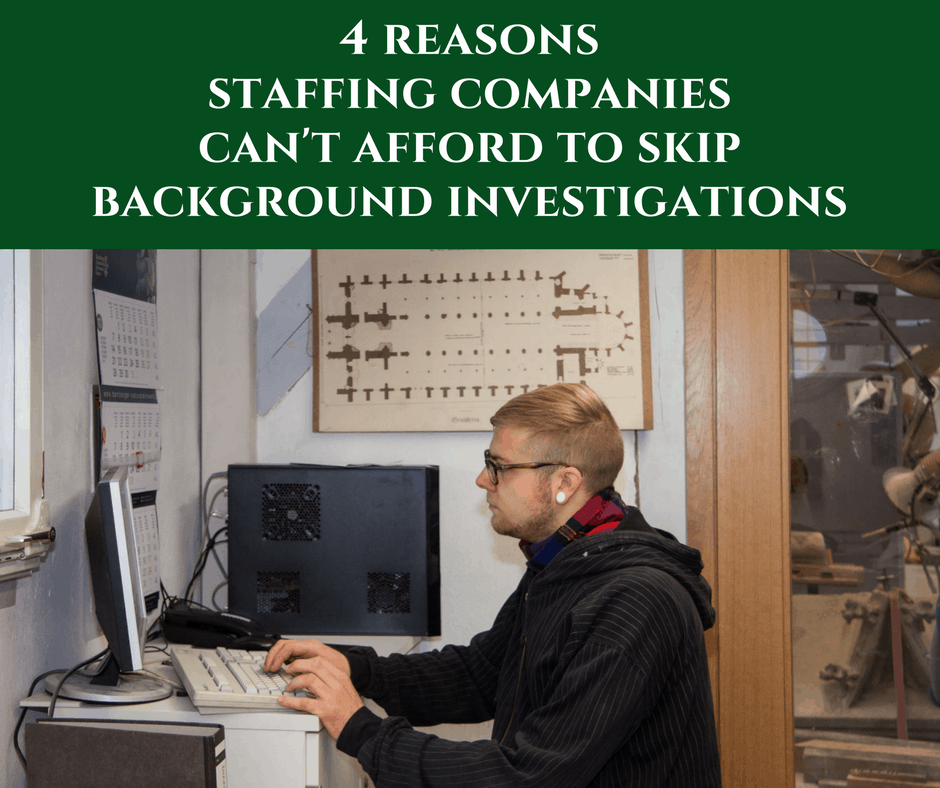 Staffing companies have unique needs, in that the individuals they hire might or might not fall under their company's jurisdiction when it comes to liability. Businesses who use staffing companies to fill internal jobs expect, whether officially outlined in their contract or not, that new hires are vetted and qualified to complete the tasks at hand. There is a reasonable expectation of quality when it comes to hires from a staffing agency. As such, it's crucial that staffing companies complete background investigations on anyone they are considering as a recommendation.
Here are 4 key reasons that your staffing company can't afford not to do background checks.
The reputation of your staffing agency.
Whether your contract with employers specifically states that you're responsible for the individuals you recommend or not, companies will have an expectation that you are staffing their business with employees of quality. Basic background searches like an Education Verification, Professional License Verification, and Employment Verification can help ensure applicants are who they say they are and have the background and skills they claim to. Not only will this protect the reputation of your agency, it will help you to match employees with the jobs they are best suited to.
The safety of your clients.
In a world where the failure to conduct thorough background investigations has resulted in everything from workplace violence to acts of terrorism, it has never been more critical that individuals be vetted before coming onboard. Your staffing agency owes it to your clients to conduct Statewide, Federal, and National Criminal searches and the searches of the National Sex Offender Registry to be sure that those you recommend to fill temporary or permanent roles for your clients are safe and trustworthy.
The reputation of your clients.
Your clients rely on you for great personnel because their customers count on them for reliable products and services. It's up to you to provide your clients with great recommendations for staffing their company. Failure to do so can put them in a bad position with their clients, which can in turn irreparably damage your own business relationship. Protect the reputation of your clients by conducting drug testing on any employees you recommend to them.
The protection of your clients' assets.
In addition to the well-being of those around them, employees you refer to clients are also responsible for the safety of those companies' vehicles, products, and equipment. If a potential hire has a history of theft, criminal convictions, or a spotty driving record, your financial investments could be at risk. Checking up on these and other aspects of your employees' past is a necessary step to ensuring your peace of mind. A DMV search will return any traffic infractions or suspended licenses that would make an employee unqualified to be trusted with company vehicles or the transportation of individuals.
Conducting thorough pre-employment background screenings is a critical part of engaging in safe hiring practices. Knowing what to do with adverse findings is also an important aspect of employee onboarding. Alliance Risk Group is a certified background screening company and is well-versed in FCRA guidelines and the legalities of what can and can't be used in determining hiring decisions. Have questions about what your staffing agency can be doing to better protect itself? Contact us for more information on employment background investigations for Albany, New York, or schedule a free webinar today!
To read more articles on background investigations, click here.