Criminal Records Check & FCRA Compliance: How Far Back Is A Criminal Records Check Reportable?
Criminal Records Check & FCRA Compliance: How Far Back is a Criminal Records Check Reportable?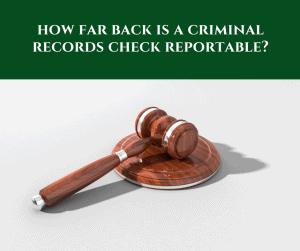 If you are interested in a comprehensive, easy-to-read chart prepared by our FCRA specialists, which includes a breakdown of state and time reporting restrictions for criminal convictions, complete this form to download the chart!
Human resource professionals are tasked with many challenging responsibilities, including how to make the best possible hires for their organizations. They have to consider a number of factors, including company culture and core values, while also ensuring that the candidate's skill set meets organizational requirements.
Once all of those hurdles are overcome and the background investigations process is initiated, additional challenges present themselves. The legal requirements surrounding background investigations can be very challenging. Adhering to the proper application process, avoiding lawsuits, and knowing what is and is not reportable following a criminal records check can all present difficulties as you progress through the investigation.
Making sure who you hire is the right fit is extremely important. The stakes are extremely high, in part because the employer can be held partially responsible for employees with past convictions who are brought onboard and do harm to another employee or customer. However, denying an individual a job opportunity solely based on his or her criminal records check can also lead to a discrimination lawsuit. As a general rule, convictions can be used against individuals in the hiring process only if certain factors apply. To learn more about those factors, download our whitepaper by clicking here!
What is the first step in navigating the hiring process? Understanding the rules!  Let's start with the candidate's application.
As you might be aware, there is a growing movement to ban the box on job applications that asks applicants whether they've ever been arrested or had a criminal conviction. The rules regarding "ban the box" vary by jurisdiction; to read more about them, click here.
The reasoning behind this rule is that questions about past criminal convictions can be discriminatory towards certain groups. Also, as the job market grows increasingly competitive, mistakes long in the past could ruin an applicant's chances of getting hired. Banning the box allows potential employees to better showcase their qualifications. Even if your jurisdiction prohibits these questions on an application, employers will always be able to do a background check for past convictions. This part of the investigation will instead occur at a later part of the hiring process.
As you get closer to hiring a potential candidate for employment, it's important to know the rules pertaining to criminal records checks. Let's start with the FCRA. The FCRA (Fair Credit Reporting Act) governs consumer reports, which include credit reports and background investigative reports. The state in which a candidate resides has an impact on the FCRA, because some states have additional regulations. What may be reportable in one particular instance may not be reportable in another, depending on the circumstances of the conviction. Want to read more about the FCRA? Click here! Read on for more state-by-state requirements:
All states follow the Federal FCRA regulations, and 36 states (including Washington, D.C.) do not have restrictions beyond the FCRA Laws. You can report all criminal convictions without timeframe restrictions with the following exceptions:

Bankruptcies can't be reported after 10 years
Civil suits and civil judgments can't be reported after 7 years
Records of arrest can't be reported after 7 years
Paid tax liens can't be reported after 7 years
All negative information (except for criminal convictions) can't be reported after 7 years

The following states have restrictions beyond the Federal FCRA Laws:

Criminal Convictions:

5 states can only report convictions back 7 years based on the disposition date (see chart for details)
Hawaii can report convictions back 10 years based on the disposition date

Salary Exemptions: In some states, convictions, no matter how old, may be reported if the applicant is expected to earn a certain salary when hired.

Colorado and Texas: expected salary – $75,000 or more
New York: expected salary – $25,000 or more
Kansas, Massachusetts, Maryland, New Hampshire, and Washington: expected salary – $20,000 or more

Non-Convictions:

In California, New York, and Kentucky, non-convictions can't be reported at all, regardless of age, except for pending charges.
In 11 states, non-convictions can be reported back 7 years (see chart for details)
 When it comes to conducting criminal background checks, knowledge is key. Knowing when in the hiring process to ask the question about criminal convictions and how far back your state requires for time reporting restrictions can protect your company from a lawsuit. At the end of the day, good judgment and common sense are paramount; however, it never hurts to be well-versed in the complicated rules of the hiring process.
Alliance Risk Group. is a full-service investigative firm that conducts best practice background checks in a variety of industries, regardless of your company's size or geographic location. Are you interested in learning more about background investigations? Schedule a no-cost webinar to see if our services might be right for you!
We invite you to browse our library of blog posts and whitepapers to gain a better understanding of the value background investigations could have for your organization.