Ban the Box Laws by State: A Guide for Employers
Ban the Box Laws by State: A Guide for Employers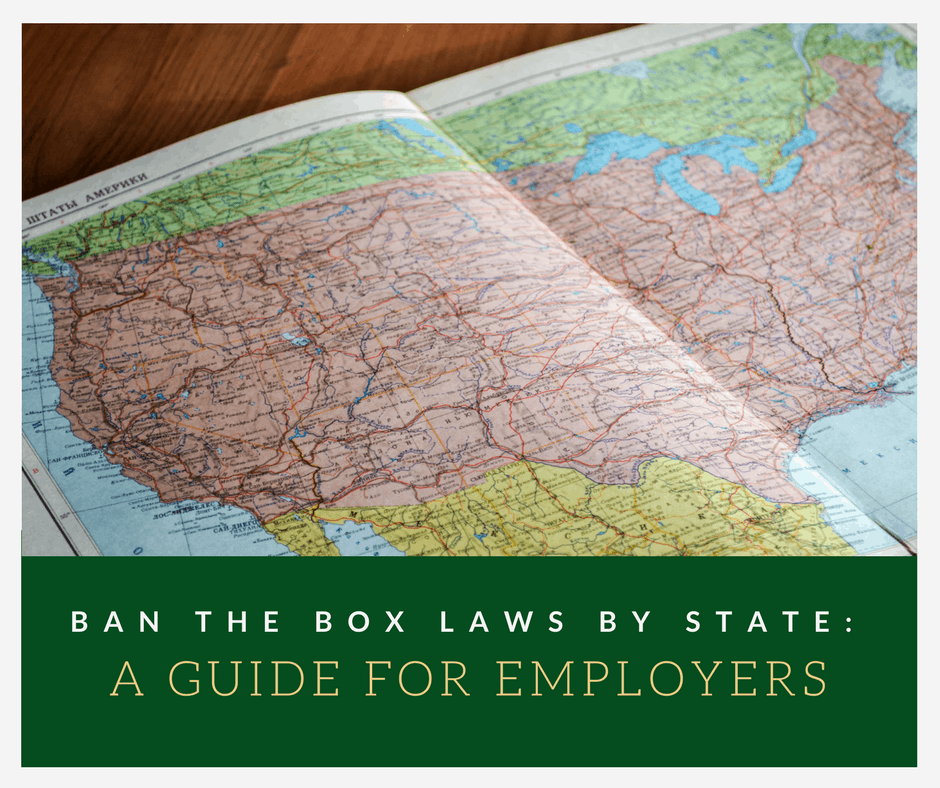 "Ban the box" regulations refer to an effort by civil rights advocates to remove the checkbox from employment applications that asks job seekers to identify any criminal record they might have. Supporters of ban the box argue that the qualifications of an applicant should be considered ahead of their criminal history, so as not to discriminate against those with past legal trouble.
Ban the box laws can be specific to public sector employees, private sector employees, or both. These rules vary by state, county, and city–do you know how your local regulations might impact your company's hiring practices?
Generally speaking, any county or city laws are in addition to state regulations. This is a guide only; your company is responsible for staying up-to-date on the legal requirements of your jurisdiction.
Read on to ensure you are up-to-date on your jurisdiction's fair-chance employment laws. If you still have questions, please contact us!
Alabama
Birmingham (county)
Arizona
Glendale (city)
Pima (county)
Phoenix  (city)
Tempe (city)
Tucson (city)
Arkansas
Pulaski  (county)
California
State regulations effective January 1, 2018–total ban statewide
Colorado
Denver (city)
Connecticut
State regulations–total ban statewide
Florida
Broward (county)
Clearwater (city)
Daytona Beach (city)
Fort Myers (city)
Gainesville (city)
Jacksonville (city)
Miami-Dade (county)
Orlando (city)
Pompano Beach (city)
Sarasota  (city)
St. Petersburg (city)
Tampa (city)
Tallahassee (city)
Georgia
State regulations
Albany (city)
Atlanta (city)
Augusta (city)
Cherokee (county)
Columbus (city)
Fulton (county)
Macon-Bibb (county)
Hawaii
State regulations–all employers must ban the box until after a conditional offer
Illinois
State regulations–public sector law
State regulations–private sector law
Chicago (city)–public and private sector law (Note: Chicago also includes a credit history restriction)
Indiana
State Regulations –public sector law
Kansas
Johnson (county)
Kansas City (city) and Wyandotte (county)
Topeka (city)
Wichita (city)
Kentucky
State regulations–public sector law
Louisville (city)
Louisiana
State regulations–public sector law
Baton Rouge (city)
New Orleans (city)
Maryland
State regulations–public sector law
Baltimore (city)–additional regulations for Baltimore
Montgomery (county)
Prince George's (county)
Massachusetts
Boston (city)
Cambridge (city)
Worcester (city)
Michigan
Ann Arbor (city)
Detroit (city)
Detroit (vendor law)
East Lansing (city)
Genesee (county)
Kalamazoo (city)
Muskegon (county)
Minnesota
State regulations–public and private sector employees
St. Paul (city)
Missouri
State regulations–public sector
Columbia (city)
Jackson (county)
Kansas City (city)
St. Louis (city)
Nebraska
State regulations–public sector
Nevada
North Las Vegas (city)
New Jersey
State regulations–public and private sector
New Mexico
State regulations–public sector
New York
State regulations–public sector
Albany (county)
Buffalo (city)
Dutchess (county)
Ithaca (city)
Kingston (city)
Newburgh (city)
New York City (city)
Rochester (city)
Syracuse (city)
Tompkins (county)
Ulster (county)
Woodstock (city)
Yonkers (city)
North Carolina
Asheville (city)
Buncombe (county)
Carrboro (town)
Charlotte (city)
Cumberland (county)
Durham (city)
Mecklenburg (county)
Wake (county)
Ohio
State regulations–public sector law
Oklahoma
State regulations–public sector law
Oregon
State regulations–public and private sector law
Multnomah (county)
Portland (city)
Pennsylvania
State regulations–public sector law
State regulations–public and private sector
Allegheny (county)
Allentown (city)
Bethlehem (city)
Lancaster (city)
Philadelphia (city)–public sector law
Philadelphia (city)–private sector law
Pittsburgh (city)
Reading (city)
Rhode Island
State regulations–public and private sector law
Providence (city)
South Carolina
Spartanburg (city)
York (county)
Tennessee
State regulations–public sector
Chattanooga (city)
Hamilton (county)
Memphis (city)
Nashville (city)
Texas
State regulations–public sector
State regulations–private sector
San Antonio (city)
Travis (county)
Utah
State regulations–public sector
Vermont
State regulations–public and private sector
Virginia
State regulations–public sector
Washington
Pierce (county)
Seattle (city)–public and private sector
Spokane (city)
Tacoma (city)
Wisconsin
State regulations–public sector
Dane (county)
Madison (city)
Milwaukee (city)
Milwaukee (county)