5 Top Ways to Mitigate Workplace Risk 
5 Top Ways to Mitigate Workplace Risk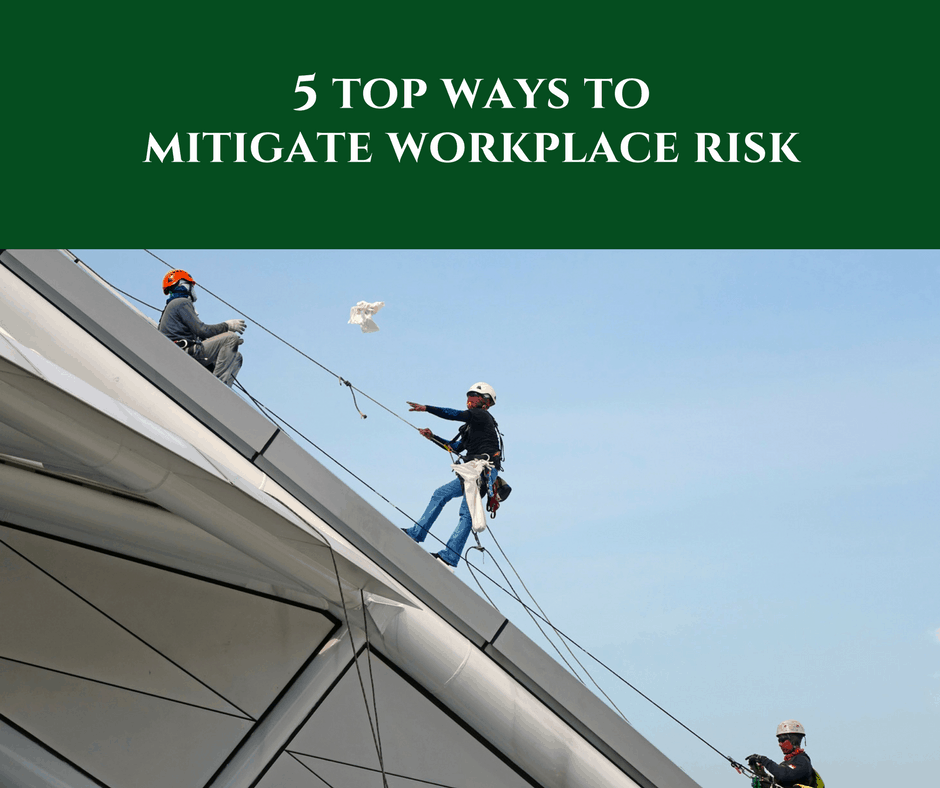 As an employer, it can be difficult to predict every possible scenario putting your workplace at risk. From employee theft to violence in the office to damaged client relationships, who you hire and how you monitor them can have tremendous impacts on your business. Here are five key ways you can mitigate risk within your company and put a stop to potential problems before they occur.
Conduct pre-employment background screenings.
Before bringing on a new hire, it is critical that you vet them in a variety of categories. Does their educational experience prepare them for the demands of the position you are filling? Do they have the proper background in similar roles? Would their references recommend them for the position? Are there any legal issues in their past that would make them a less-than-stellar fit at your company?
Knowing the answers to these and other employee-related questions before they become a member of your team is a key first step in ensuring a qualified, professional, and safe workplace.
Monitor employee backgrounds annually.
Pre-employment background screenings are great, but it is important to keep up on the out-of-work activities of your staff. In the time between hire and the employee's first anniversary, for instance, a great deal could have transpired in their personal life. Checking in periodically with a background screening to be sure no traffic violations, drug infractions, or other issues that could prove problematic have cropped up is always a good idea.
Keep tabs on out-of-work employees.
As an employer, it is your duty to hold a workers' compensation insurance policy for the benefit of any employee who is injured in the job. If such an injury should occur and your employee is out of work, they will receive payments from your insurance company for the duration of their time out.
Unfortunately, workers' compensation fraud is a tremendous problem in the workplace today, creating billions of dollars in lost revenue for United States companies every year. Checking up on your staff while they are out of work is a smart move. If you have reason to suspect an employee is overstating or even lying outright about their injuries, you can do more.
Involving a private investigator can help to bring closure to cases of workers' compensation fraud. Investigators are skilled in surveillance, canvassing, social media monitoring, and other strategies for getting the truth about your claimant's capabilities. If an investigator uncovers fraudulent activity, your company can pursue a fraud finding at the workers' compensation board. Successfully winning a fraud finding would mean that your claimant would no longer be able to accept payments, and they might even have to repay some of the funds they collected.
Monitor computer activity.
Unfortunately, theft of company time has become an even larger problem with the ubiquity of smartphones and PCs in the workplace. As a manager, you can't be everywhere. Checking on your employees throughout the day at random times to verify they are focused on their jobs is a good idea. Additionally, monitoring their computer activity automatically and checking in from time to time can help to ensure your employees are both focused on their work and not using office technology for inappropriate activities.
Have a workplace violence plan in place.
All too often, stories of violence in the workplace crop up and shake our feeling of security. How can a company prepare for the threat of a violent employee harming or attempting to harm other staff members or clients?
Following the above steps and knowing more about who your employees really are is a good first action to take. From there, evaluate potential risks to the workplace and develop clear plans that can be easily executed. These should include lockdowns, evacuations, and more. Share these plans with your employees, and be sure to practice them regularly. It's impossible to predict with certainty a violent incident, but being prepared puts you in a far better position should one occur.
Alliance Risk Group. is a full-service investigative firm that conducts best practice background checks and comprehensive claims investigations in a variety of industries, regardless of your company's size or geographic location. Are you interested in learning more about ways in which we can help you mitigate risk? Schedule a no-cost webinar to see if our services might be right for you!
We invite you to browse our library of blog posts and whitepapers to gain a better understanding of the value background investigations and claims investigations could have for your organization.