Social Media and the FCRA: What You Need to Know
Social Media and the FCRA: What You Need to Know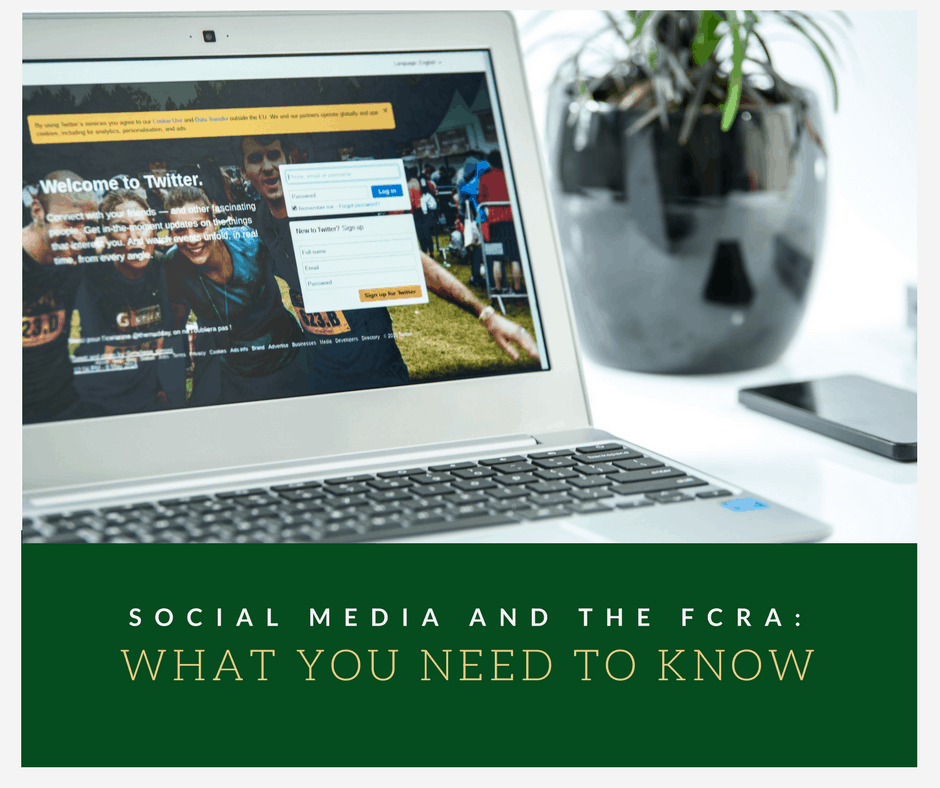 Social media is a big deal these days–it is used to keep in touch, make new connections, and even network with professional contacts. It's often possible to tell a lot about a person from a quick check of their social media accounts. When it comes to making hiring decisions, learning a bit more about a potential employee by browsing their Facebook or Twitter account can be quite helpful. But does your company know what is permitted and what is not when it comes to using social media information in hiring decisions?
Background checks conducted prior to bringing on new hires can include a number of searches, ranging from verification of employment or education to criminal history to global sanctions searches. Increasingly, employers also want to look into the social media of an applicant to verify that the individual's online behavior aligns with the company's professional requirements.
However, both the companies ordering the background checks and those providing said investigations are required to comply with the Fair Credit Reporting Act, or FCRA. The FCRA is a United States federal law promoting the accuracy, fairness, and privacy of consumer information in credit reporting. In essence, consumers have the right to know what information is in their file, whether information in their credit report has been used against them, and to dispute anything contained within the report that they know to be false. A reasonable expectation of privacy is also promised to consumers under the FCRA. You can read more about the FCRA's consumer rights here. To learn more about how to avoid a lawsuit under the FCRA, click here.
Certain parts of the FCRA that relate to social media include taking all reasonable action to ensure that information provided relates to the correct applicant. All too often, searches for an individual return results for another person by the same name or with a similar appearance. If "John Smith" has applied for a job, the background investigation company must do its due diligence to be sure that the person whose Facebook page they check is the correct "John Smith."
In addition, copies of the background investigation report need to be available to the applicants. This is an FCRA guideline that can get companies into trouble–if reports aren't available to applicants, the applicants can claim their rights were violated and attempt to sue. A process must also be in place for applicants to dispute anything included in their report with which they disagree or find to be false. In addition, it is the responsibility of employers to provide applicants with notice of any adverse action they intend to take because of a report. If a company wishes to reject an application due to something they observe on an individual's social media page, that applicant must be informed in the same way they would be if the information came from an education verification or other more traditional background check search.
Your background check provider must also comply with FCRA guidelines and require your company to certify that reports won't be used in a way that would violate federal or state equal employment opportunity laws or regulations. When it comes to social media, this could help prevent discrimination on the basis of an individual's physical appearance in photographs, self-proclaimed religious beliefs, or other information.
Employing social media searches can be a great addition to a thorough background investigation. Ensuring that they are conducted within the guidelines of the FCRA is critical, however, to ensure your company is not in violation of an applicant's rights.
Alliance Risk Group. is a full-service investigative firm well-versed in social media searches and the Fair Credit Reporting Act. We conduct best practice background checks in a variety of industries, regardless of your company's size or geographic location. Alliance believes in being proactive, not reactive! Contact us with questions about the FCRA or to set up an employment background screening today!
Are you interested in learning more about background investigations? Schedule a no-cost webinar to see if our services might be right for you!
Still new to the idea of background investigations? Browse our library of blog posts and whitepapers to gain a better understanding of the value background investigations could have for your organization.