4 Reasons Background Checks are Critical for Colleges
4 Reasons Background Checks are Critical for Colleges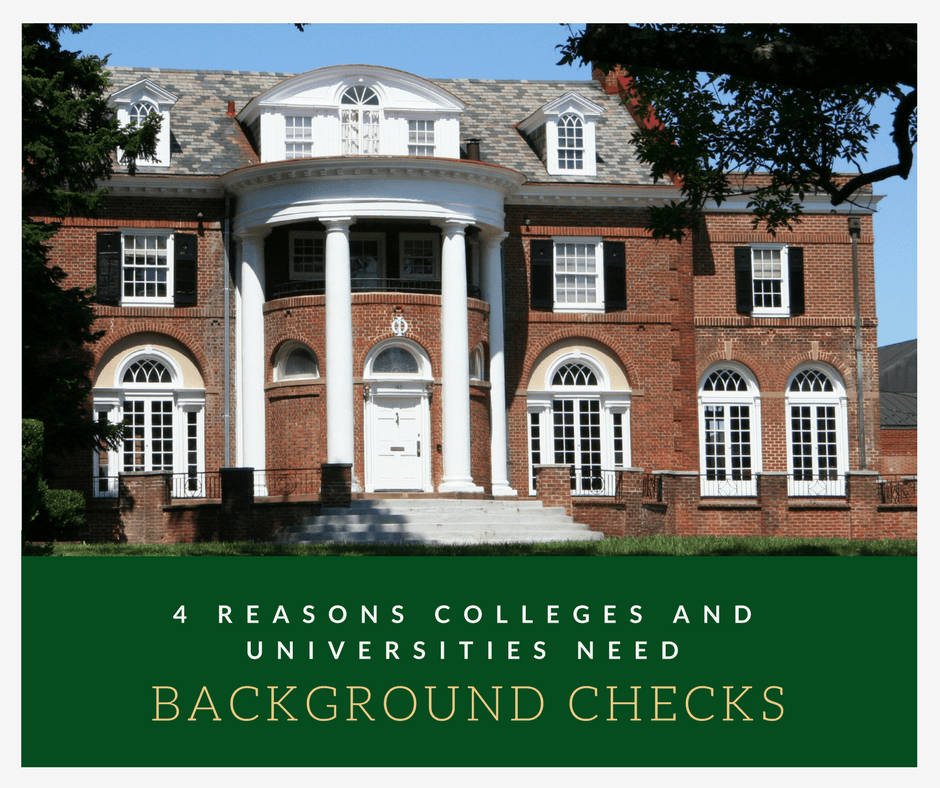 Administering a college or university can be a daunting task, particularly when it comes to staffing. Identifying the best academics, administrators, and support staff to uphold your institution's mission and best serve the needs of your students is a massive undertaking. In addition, institutions of higher education rely heavily on their excellent reputation, built slowly over many years. One human resources misstep could set your university back significantly in the eyes of the community and prospective students.
For all of these reasons, it's crucial that colleges and universities conduct background investigations on all potential hires. This means any professor, even if just visiting for a semester. All office administrators, all dining hall staff, and all provosts. Learning a little bit more about an individual before they are brought on board via a background check is the due diligence your institution needs to safeguard its great name.
Here are four reasons in particular that colleges and universities should not overlook background checks.
College employees deal directly with students.
Make no mistake–the safety and well-being of the students at your college or university is the most important aspect of a successful institution. Ensuring that young people are surrounded by professors and support staff who care about their welfare and safety is an integral part of operating such an institution. Background checks such as a Statewide Criminal Search, Federal Criminal Search, National Criminal Search, and Nationwide Sex Offender Registry should be conducted on every individual your college is thinking of hiring. You can never be too careful when it comes to the safety of students.
The vocational future of students is in your hands.
The professors and teaching assistants you bring on are there solely to educate and enlighten the students at your university. Young people are relying on the information you provide to lay the groundwork for their future in the workforce. In certain industries, such as healthcare or engineering, for instance, specific information taught at college will be used by students in their careers to make decisions that impact the safety of others. For these reasons, ensuring that academic staff have the proper educational background and work history to be qualified to teach is paramount. Education and employment verifications should be conducted as part of a thorough background check for a college or university.
The college's reputation is at risk.
Colleges and universities are built upon their reputations. Brand image and alumni impressions are powerful when it comes to attracting prospective students. Any incidents involving inappropriate professors, questionable staff, or unqualified teaching assistants can have a tremendously negative impact on the institution as a whole.
Staff have access to institutional data and equipment.
Colleges have vast assets–from institutional data like parents' financial information to student test scores; particle accelerators and advanced computers; vans and plows and construction equipment; the list goes on and on. A thorough background screening can help to protect these assets and verify that new hires will safeguard the institution's information and holdings. Additional searches, like an Office of Foreign Assets Control (OFAC) search or Extended Global Sanctions Search (GSA), can further verify that no college employee has been involved with questionable or terrorist activity around the world.
For additional information about background investigations, contact Alliance Risk Group today! We are experts when it comes to the background check process. We would love to answer your questions and help you to set up background investigations on any pending applicants.
If you're interested in reading more blog posts on background investigations, we invite you to do so here.