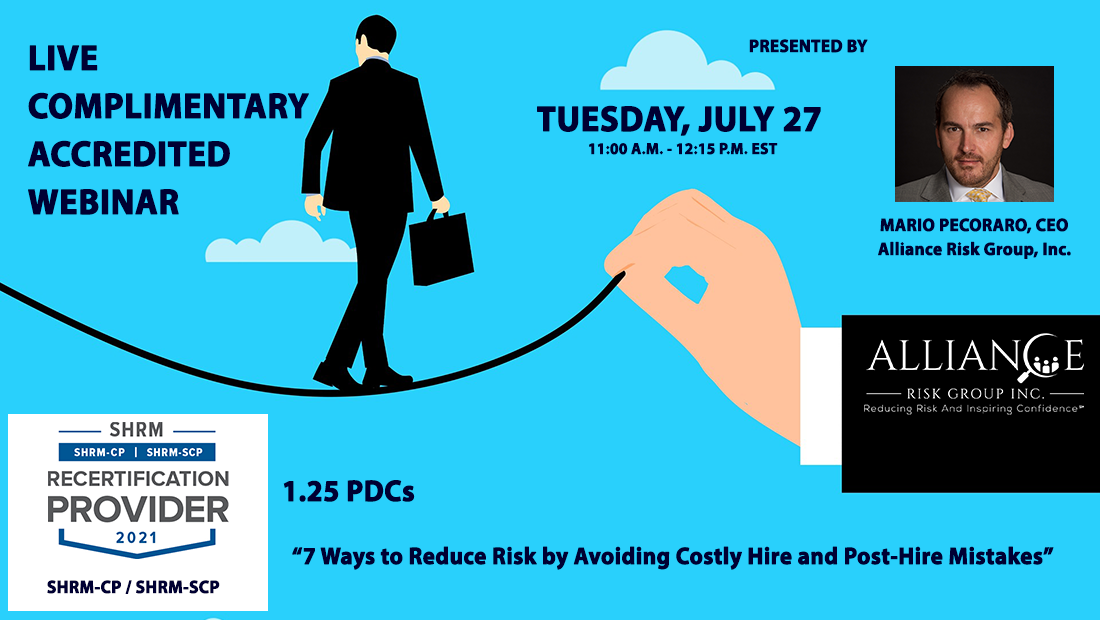 If you need Free SHRM Credits…or are a business owner or HR professional navigating the hiring process…
You are invited to join Mario Pecoraro, CEO of Alliance Risk Group, for our free Accredited Webinar on July 27, 2021 at 11:00 AM – 12:15 PM EST
The hiring process is not an easy task. There are dangers lurking everywhere when it comes to avoiding pitfalls and mitigating risk. Your employees and clients need to be safe. Therefore, who you bring on board can't pose a threat or danger to anyone. While thorough background investigations can assist with avoiding a negligent hiring lawsuit there are also mine fields to navigate on the applicant side including complying with laws and regulations that promote fairness, full disclosure, and anti-discrimination policies. On one hand, you must be vigilant in your screening process, but risk also comes with background investigations that are not in compliance.
Attend this free webinar to learn the 7 ways to hire and hold a healthy, happy workforce while avoiding the occupational hazards HR professionals face: employment litigation.

IMPORTANT – PLEASE FOLLOW THESE STEPS TO JOIN THE WEBINAR!
After registering, look for your confirmation email from Mario Pecoraro [mailto:no-reply@zoom.us]
Please white list this email so that it doesn't end up in the spam folder
This email will contain your UNIQUE link to join the webinar
Please use the option in the email to save the information on your calendar
On the day of the webinar, just go to your calendar information and click your unique link to join the webinar
Thank you and we hope to see you there!