"Refine Your Background Check Strategy During Hiring" published by SHRM!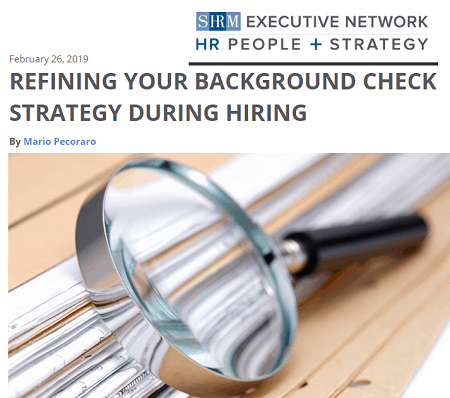 A blog written by CEO Mario Pecoraro, "Refining Your Background Check Strategy During Hiring" was published by SHRM Executive Network, HR People & Strategy.
Here is an excerpt:
As we approach 2020, it's inevitable that HR leaders will want to assess policies, trends, and strategies in order to provide direction, philosophy, and leadership for HR professionals in the coming decades. Over the past several years we have seen social crusades such as the #MeToo movement, diversity & inclusion, and guidelines that protect individuals with a criminal past. This has and will continue to have a huge impact on hiring practices.
A negative trend that has also emerged is incidents of violence, access to guns, and mental health issues which have made the workplace, at times, a dangerous place. HR leaders should take a balanced approach when implementing policies that HR staff follow when making hiring decisions. Knowing what can be potentially revealed in a background investigation vs. what is not can have a huge impact in the ability of HR to navigate risk. There is the balance between adhering to Equal Employment Opportunity Guidelines (EEOC) and Fair Credit Reporting Act requirements (FCRA) while protecting the company and other employees from negligent hire lawsuits.
To view the complete article, click here!
If you are interested in Alliance services, email www.sales@allianceriskgroup.com.