CEO Mario Pecoraro Selected to Speak at RIMS 2019 Annual Conference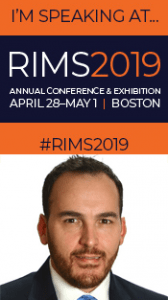 More Than 10,000 Global Risk Professionals to Convene at Industry Leading Event on
April 28 – May 1 in Boston
April 9, 2019 –Mario Pecoraro, CEO of Alliance Risk Group has been selected to present at RIMS 2019 Annual Conference & Exhibition, the premier risk management and insurance conference. Mario will join Caroline J. Berdzik Esq., Partner with Goldberg Segalla to present "Navigating Employment Laws in the Gig Economy to Avoid a Lawsuit. This educational session is scheduled for May 1, 2019 at 9:15 am.
According to Mario Pecoraro, "I am pleased to partner with Caroline Berdzik, Chair of the Goldberg Segalla, LLP employment, labor and health care practice groups, to present on employment laws related to gig workers. This is a trending issue as the convenience of apps for every kind of service becomes widespread. As gig and contract work continue to be a growing segment, traditional employment laws and employer/employee relationships get blurred. Ms. Berdzik regularly provides employers with strategic business advice on critical human resources issues that arise out of the employment relationship."
Alliance Risk Group provides pre- and post- employment background screenings and investigative surveillance services. A member of the National Association of Professional Background Screeners (NAPBS), Alliance employees hold FCRA Advanced Certification. Mario Pecoraro's second book, "Avoiding Costly Hiring Mistakes" is expected to be available on Amazon.com this summer.
The RIMS 2019 Annual Conference & Exhibition is a four-day conference scheduled for April 28th – May 1st at the Boston Convention & Exhibition Center. The event is renowned for its unmatched networking opportunities, a wide-selection of educational sessions and hosts more than 400 exhibitors. Annually, the conference draws approximately 10,000 risk and insurance professionals from more than 70 countries.
For more information about the conference program, educational sessions, and networking events or to register, visit www.RIMS.org/RIMS19.
About RIMS
As the preeminent organization dedicated to educating, engaging and advocating for the global risk community, RIMS, the risk management society™, is a not-for-profit organization representing more than 3,500 corporate, industrial, service, nonprofit, charitable and government entities throughout the world. RIMS has a membership of approximately 10,000 risk practitioners who are located in more than 60 countries. For more information about the Society's world-leading risk management content, networking, professional development and certification opportunities, visit www.RIMS.org