Alliance is an Approved NAIC Background Check Vendor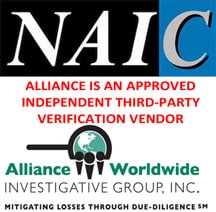 Alliance Risk Group has been added as an approved National Association of Insurance Commissioners – NAIC Background Check vendor. The NAIC is the U.S. standard-setting and regulatory support organization of insurance regulators who establish best practices, conduct peer review, and coordinate regulatory oversight. NAIC approves nationally recognized credit reporting agencies with experience performing Biographical Verification Reports also known as background investigations. Companies seeking Biographical Verification Reports must provide a completed copy of the individual's NAIC Biographical Affidavit and Authority for Release of Information form.
The information contained in the NAIC Biographical Affidavit is used to validate the educational, employment and criminal history of insurance company applicants for a variety of industries including life insurance and dental insurance providers. The results of the NAIC application validation process are used by the State Insurance Departments to assess competency, character, experience and integrity of the personnel responsible for the insurer. As an approved, third-party NAIC background check provider, Alliance Risk Group accepts NAIC applications, performs the validation/verification process and submits the completed Background Verification reports directly to the State Insurance Department(s). NAIC Biographical Affidavits and NAIC Applications are submitted on behalf of officers, directors and key managerial personnel.
According to Mario Pecoraro, President/CEO of Alliance Risk Group, "We are pleased to be included as an independent, third-party NAIC vendor and listed on the Uniform Certificate of Authority Application (UCAA) website. We are a nationally recognized agency and a member of the National Association of Professional Background Screeners with employees who hold FCRA Advanced Certification. Those in need of NAIC background checks or submitting NAIC applications can rest assured knowing we adhere to NAIC best practices and are leaders in the industry."
The cost of an NAIC Biographical Verification Report is $395 plus statutory fees. Alliance's NAIC background checks include the following searches:
Subject's Basic Information

Name, Alternate Name (add'l rates may apply)
Date of Birth
Social Security Number
Spouse Name
Discrepancies
Verified Data

Address Verification for the Past 10 Years
Employment Verification
Education Verification
Professional License Verification
Professional Association Verification
Bankruptcy
Lien & Judgment
Criminal Records Search
Civil Records Search
UCC Filings
To get started please call (518) 514-2944 or email sales@allianceriskgroup.com.