Alliance CEO to Present on Preventing Workplace Violence at NYC SHRM-View Published Blog!
To view the published blog about this presentation by Mario Pecoraro on the NYC SHRM website, please click here!
Be sure to register for New York City SHRM 2019 Conference, "Exceeding the Vision" that will be held on Friday, April 5, 2019. Alliance CEO, Mario Pecoraro, will present on "Best Practices to Prevent Workplace Violence."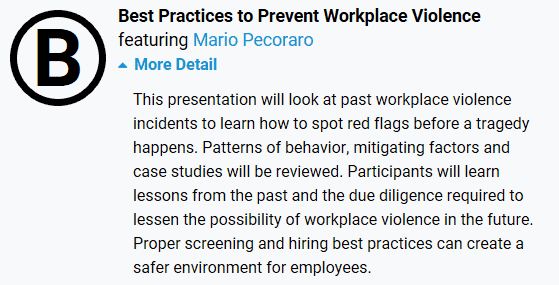 Mario Pecoraro's presentation looks at the warning signs of workplace violence and what can be done to mitigate risk and keep workers safe. The following is an excerpt from the SHRM NYC website blog written by Mario Pecoraro:
The United States Department of Labor reports that nearly 2 million American workers have been victims of workplace violence each year and the agency states there are many more cases that go unreported! According to the latest National Safety Council figures, in 2016, fatalities resulting from workplace violence represented 17% or 882 out of a total of 5,190 overall deaths. That figure is second only to transportation as the top cause of workplace fatalities. As a business owner and employment background screening investigator with a background in Criminal Justice, I was compelled to look into the statistics, trends and red flags that could explain and possibly deter an event like this from happening. Were there common threads in each case and red flags missed?
To view the blog in it's entirety, please click here. For more information about Alliance services, email sales@allianceriskgroup.com.