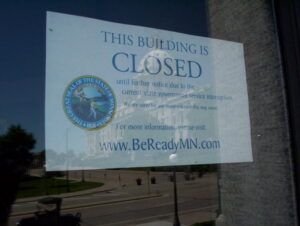 Like other background investigation companies throughout the country, court slowdowns have also affected Alliance Risk Group, however, we are pleased to report an increase of just 1 or 2 days to our background investigation turnaround at this time. Email Teresa Goodwin at [email protected] if you have questions or concerns.
Many factors have converged to cause the slow down and shutdown of courts around the country. This has had an adverse affect on background investigation turnaround time for companies and credit reporting agencies across the nation. Here is a breakdown of what employers should be aware of and how to maintain HR compliance in these challenging times.
The average employment background investigation will review 7 years of an applicant's history including criminal records, education and work experience.
Reasons for Delays
The Covid-19 Pandemic
As courts and businesses shut down in 2020 due to the pandemic, hiring and conducting background investigations faced difficulties.

The Pittsburgh Post-Gazette reported that in 2020, 14 states added an extra 3 days to the criminal background check process and that the state of Maine had the longest delay, adding an average of 11 days to the process.
In 2021 and 2022, courts and businesses are opening at different rates but the emergence of the Delta Variant and, more recently, the Omicron Variant has been a factor. On average, normal background checks that may take 1 to 3 days may take an additional 2 days to complete.
Many applicants live in several states and counties over the course of 7 years which can complicate matters as data sources for information are not always immediately available.
Education and Work Histories may not be readily available because companies and schools are not fully opened and don't have employees on-site to answer phones and provide references.
New Regulations with Stricter Requirements
According to a recent article by Venable, LLP, a top US law firm, there are new regulations employers should be mindful of when conducting background investigations.

A new wave of federal level "ban-the-box" or "fair chance" laws make it illegal to ask a candidate if they have ever been convicted of a criminal conviction, in most cases, until after a conditional offer is made.
New and changing legislation has contributed to some delays in the background investigation process throughout the country.
To read the Venable article that includes steps employers can take, click HERE.
THE BOTTOM LINE
While it may seem tempting to forego employee background investigations to alleviate delays, it is not advisable.

According to Teresa Goodwin, MBA, Director of the Background Investigative Division at Alliance Risk Group, "A key element to avoiding risk in the workplace is by hiring the right employees who not only contribute in productive ways to the company but on the other end of the spectrum, don't pose a risk or threat to your other employees and/or clients. You must know who you are hiring to avoid "Negligent Hire" lawsuits, maintain positive corporate culture, and mitigate the risk of a bad hire which can be the costliest mistake a business can make." Teresa Goodwin holds FCRA Advanced Certification and Professional Background Screening Association (PBSA) Criminal Provider Certification.
An executive search firm reported that it cost CEO and owner of Zappos "well over $100 million" hiring bad employees before he learned now to get it right. Don't make the same mistake!
Questions? Email [email protected]