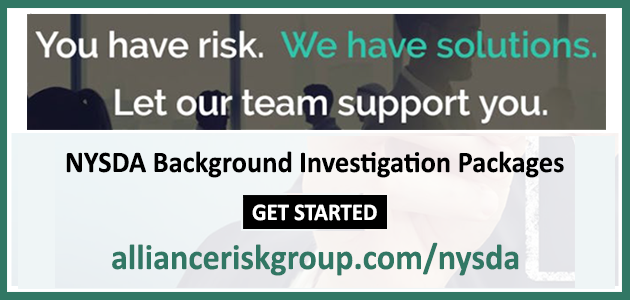 Alliance Partners with New York State Dental Association  
As a NYSDA- endorsed vendor, we offer Association members employment background investigation packages at discounted rates. NYSDA members can get started here: https://allianceriskgroup.com/nysda or simply click the image above.
Alliance Risk Group, headquartered in New York State, is proud to partner with NYSDA. We offer pre- and post- employment background investigation packages designed exclusively for NYSDA members at discounted rates.
Dental practitioners in New York State face increased government oversight and regulatory action. Clinical staff must be properly licensed, adhere to age, experience, and education requirements, and "be of good moral character." Non-clinical staff, including financial managers, have access to sensitive patient financial and medical information.
According to Alliance CEO Mario Pecoraro, "It is becoming more apparent from the stories we hear in the news that regulatory compliance and thorough background investigations are a critical risk mitigation measure. Alliance is proud to announce that we are now a NYSDA endorsed service, offering peace of mind to dental practices throughout New York with not only EEOC and FCRA compliance, but also by eliminating fraud and keeping patients and staff safe."
Alliance offers a Primary Search Package, Enhanced Search Package and Advanced Search Package. The recommended Enhanced Search Package includes Social Security & Address History, Statewide Criminal Search, Federal Criminal Search, National Sex Offender Registry, Office of Inspector General (OIG), Professional License Verification, Consent Based SSN Verification (CBSV), Education Verification and Employment Verification.
All of the packages can be customized with the following additional searches for a background investigation package perfect for each practice: Comprehensive Social Media, Driver's License Verification, Multi-State Criminal (National Search) and 5-Panel Drug Screening.
To view our listing on the NYSDA website, look for Alliance Risk Group under Office Support Services here: nysdental.org/endorsed
If you are a NYSDA member, let Alliance Risk Group be your Compliance Expert Partner. To get started, click here: https://allianceriskgroup.com/nysda or email [email protected].